Actress Natalie takes centre stage
Wed, 21 Nov 2012 12:02:00 GMT
Huddersfield graduate Natalie Gavin opens new Careers and Employability centre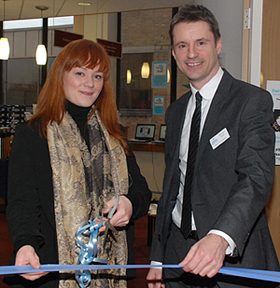 POPULAR actress Natalie Gavin's latest starring role was to open the new centre for the Careers and Employability Service at the University of Huddersfield, where she studied for a drama degree.
She has landed a series of plum stage, film and TV parts – appearing in popular programmes such as Shameless and Prisoners' Wives. Next up is a new series of BBC 1's The Syndicate, about a group of Lottery winners, in which Natalie stars alongside the likes of Mark Addy, Alison Steadman, and Siobhan Finneran, who plays the scheming housemaid in Downton Abbey.
It means that at 24, Natalie's acting career has had a dream start. And when she declared the University's new Careers centre open, she urged other students to hold on to their dreams.
"When I was a student I found that determination was the most important thing, whatever your subject," she told the crowd. "It is hard work, but don't give up on your dreams. The University of Huddersfield gave me the skills that I needed to make my dreams come true."
Natalie, who is from Denholme near Bradford, started to land acting roles while still studying for her drama degree. But she was determined to finish the course and she graduated in 2011.
After Natalie cut the ribbon for the new centre, staff, students and guests were treated to cupcakes and shown around the new facilities.
"In many ways the University of Huddersfield leads the way for employability," said Head of Careers Stephen Boyd at the start of the ceremony. "So by inviting Natalie we are celebrating the success of our graduates in the company of a successful graduate!"
The Careers and Employability Service has moved into new, specially-redeveloped premises in the University's Central Services Building. As Stephen Boyd explains: "The new location means that the service now takes up a prominent and highly-visible place at the heart of the campus, which not only signifies how important our students' future employability is to the University, but also illustrates the reason why we are already one of the most successful in the sector when it comes to graduate success."