Accounting for the world
Thu, 03 Nov 2011 14:16:00 GMT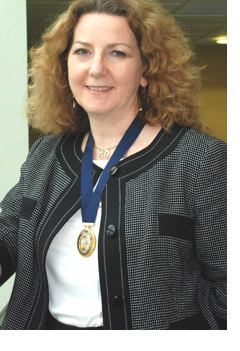 FOR more than 20 years, Wilma Teviotdale (pictured) has played a key role in the education of accountants, so that they are equipped to deal with the challenges of globalised business. And soon she will have a high profile role as President of the West Yorkshire Society of Chartered Accountants – one of the largest District Societies of the Institute of Chartered Accountants in England and Wales – and she pledges to make full use of her experience.
After 13 years in practice as an accountant with a major firm of international chartered accountants, Wilma switched to Higher Education when she became a senior lecturer at the University of Huddersfield in 1988. Seven years later she became its Head of Accountancy.
A career-long member of the Institute of Chartered Accountants in England and Wales (ICAEW), she is currently Deputy President of the West Yorkshire Society of Chartered Accountants. This means that next year she becomes President of a regional organisation that has 5,300 members.
It will be a busy year of office in which Wilma presides over meetings and acts as a conduit between the West Yorkshire society and the London HQ of ICAEW. But her role as an educator will shape her presidency.
She is keen to extent the work of the WYSCA in forging links between the accountancy profession and higher education, especially in meeting Government targets for the employability of graduates. The importance of closer working between higher education and employers is well recognised in the CBI's Future Fit report which deals with the challenges of preparing graduates for the workplace.
"It is rare for someone from the field of Higher Education to hold the job of president, but it does mean that I have a different perspective on the accountancy profession," says Wilma. "Our aim at the University of Huddersfield is to make sure that we have really employable graduates, so we must keep our finger on the pulse of what is happening."
One of biggest challenges is the globalised economy, meaning that accountancy graduates must be able to deal with business on a worldwide basis. As an educator, Wilma has operated globally herself, travelling overseas for the University in forging links abroad. For ten years, she was also a chief examiner for ICAW, setting two papers a year in the subject of financial reporting. It was taken by thousands of students worldwide.
"We must also keep up to date with the changing pace of technology, which as accountants we have embraced really well," adds Wilma, who also places emphasis on the role that universities can play in regional economic regeneration.
Wilma Teviotdale leads the University's Partners in Accountancy initiative, which was established over two years ago as collaboration between 'gown and practice' designed to give Huddersfield students an exceptional start to their accountancy careers.
Firms taking part include multinationals KPMG, PricewaterhouseCoopers, Grant Thornton, Baker Tilly, BDO Stoy Hayward as well as local practices Kirk Newsholme, Revell Ward, Simpson Wood and Wheawill and Sudworth.
The partnership builds on established links with many of the firms and is warmly received by the accountants. "The initiative is real success story," says Wilma. "The firms offer career and employability support to the students and actively introduce the students to technical material using real-life case study approaches."