A bridge so far!
Mon, 30 Jan 2012 15:00:00 GMT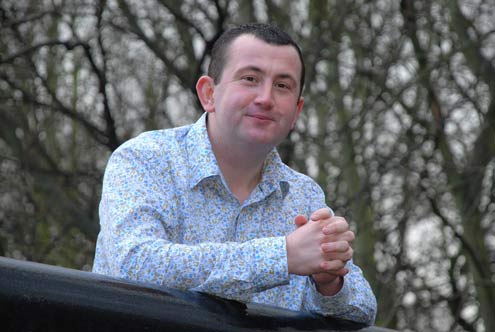 PhD student Tosh Warwick - heading Down Under
IT is a unique fund-raising project, taking place simultaneously in different hemispheres. On Sunday 12 February, at almost the precise moment that MA student Claire Warwick leaps from the top of one of Britain's best known bridges, trusting in a bungee rope to stop her plunging into the waters of the River Tees, her big brother Tosh will be travelling in the opposite direction – at the opposite side of the world. He will be climbing to the top of the equally iconic Sydney Harbour Bridge (below right).

And although University of Huddersfield postgraduate researcher Tosh's journey to the summit of his bridge will take a lot longer than Claire's leap from the famous Middlesbrough Transporter Bridge, he reckons he has got the best of the deal. "I really don't fancy the idea of a bungee jump!" he says.
The unusual double challenge is being staged to raise money for the Teesside Hospice, where Claire and Tosh's uncle Neil Harvey was cared for in the last stages of his prostate cancer, before passing away late last year. The brother and sister were so impressed by care standards at the hospice that they devised their fund raising plan. They aim to raise at least £400.
And the fact that they are both Middlesbrough born and bred is enough to explain the bridge dimension to their sponsorship scheme. Historian Tosh, aged 27, is based at the University of Huddersfield, researching for a PhD degree on the nineteenth and early-twentieth century iron and steel magnates of his native town. And he is a self-confessed bridge geek...
"I think a fascination for bridges is embedded into Middlesbrough people!" he says.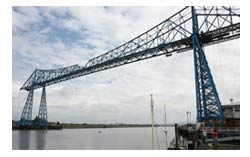 The River Tees is crossed by several famous bridges, including the Transporter (pictured left), opened in 1911. Meanwhile, the Middlesbrough firm Dorman Long – which is central to Tosh's research – built the Sydney Harbour Bridge, which opened in 1932, plus the Tyne Bridge in Newcastle and many others. There are family connections with the firm – Uncle Neil worked at coke ovens that had belonged to the company and their grandfather Hugh (Paddy) Boyle was a Dorman Long employee.
Tosh is scheduled to present an academic paper at a conference taking place in Perth, Australia, in February, and this trip Down Under meant that he and Claire could plan their double challenge. She jumps from the Transporter Bridge at 2pm on 12 February, and – after working out the time differences – Tosh will start to climb to the top of Sydney Harbour Bridge at the same moment.
Both brother and sister will be using the services of companies that offer bungee jumps and bridge climbs on a regular basis.
Tosh studied for history degrees at Lancaster and Teesside universities before relocating to Huddersfield for his PhD. Claire is completing her English MA at Teesside.
Donations to their dual bridge project can be made at www.justgiving.com/clairetosh.