£600k invested in Huddersfield sports community
Wed, 06 Mar 2013 12:26:00 GMT
The University and Leslie Sports Foundation sign a 99-year deal for sports facilities at Storthes Hall Park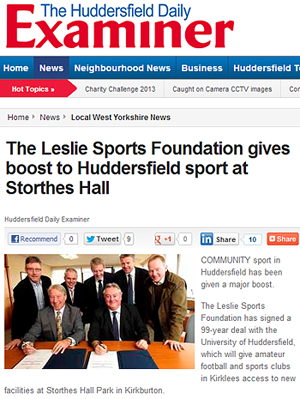 This week, the Leslie Sports Foundation signed a 99-year deal with the University of Huddersfield, which will give amateur football and sports clubs in Kirklees access to new facilities at Storthes Hall Park in Kirkburton, Huddersfield.
The deal will not only enhance the University's existing football and hockey amenities and its demand for further development on the site, but will open up opportunities for local children to play and practice on good quality pitches and help inspire future sporting professionals from the area.
The Leslie Sports Foundation was set up by serial entrepreneur and philanthropist, Professor Graham Leslie and his family, with the sole intention to acquire use of Storthes Hall Park and create a sports facility for the local community. Professor Leslie has already facilitated and co-ordinated a £600k community investment into the development with future plans for the site to become the hub of sport in Huddersfield.
Through the investment, much-needed refurbishment will be undertaken on the sports pavilion, which will provide a club house, six changing rooms, two referee changing rooms as well as toilet facilities and storage rooms. There will also be two new pitches built to complement the existing adult and junior pitches.
The Leslie Sports Foundation also has future plans to offer holiday camps during the school summer and half-term breaks at Storthes Hall Park for aspiring young footballers.
Storthes Hall Park currently accommodates a student village for up to 1,432 students for the University of Huddersfield and is also used by Shelley Community Football Club's adult and junior teams and Huddersfield Town football club.
A representative from the Football Association (FA) was also in attendance at the signing of the lease. The Football Foundation, which is part funded by the FA and is the country's largest sports charity, will be contributing a grant to help with the refurbishment at Storthes Hall Park and as well as providing a playing and coaching entity and revenue stream.
Professor Leslie said: "The University has been very supportive allowing the Leslie Sports Foundation to have access to the site at Storthes Hall Park. It has been a long and winding road to get to where we are now. We've still got a way to go, but it's such an amazing achievement to be able to help the local sporting community.
"We want it to be a place where both children and adults will come and play football and other sports for many years to come. We've had many people involved in the development from day one, so I'd like to thank all the volunteers and organisations that have worked hard to help us achieve our goals."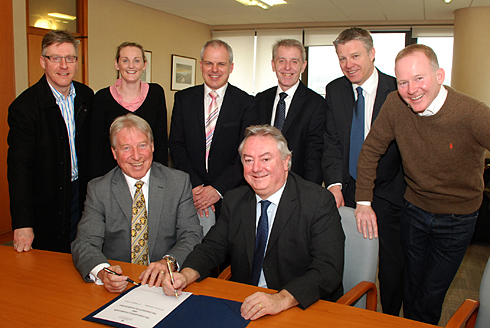 Pictured: Sports Foundation signs 99-year lease with University of Huddersfield for access to sporting facilities at Storthes Hall Park. L-R (back) Mark Pover, Football Foundation, Hannah Simpson, Chief Executive of the West Riding County Football Association, Lee Henton, Director of Leslie Sports Foundation, Colin Blair, Director of Estates and Facilities, University of Huddersfield, Paul Joyce, Ramsdens Solicitors, Craig Leslie, Director of Leslie Sports Foundation, L-R (Front) Prof Graham Leslie, Chairman of Leslie Sports Foundation, Prof Bob Cryan, Vice-Chancellor of the University of Huddersfield.