3M President becomes Visiting Professor
Fri, 26 Apr 2013 13:42:00 BST
3M's Stefan Gabriel welcomed as Visiting Professor of Innovation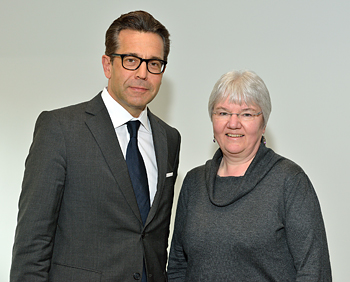 The President of 3M New Ventures Stefan Gabriel is pictured alongside the University's Director of ‌Research and Enterprise, Professor Liz Towns-Andrews, who is also the University's 3M Professor of Innovation and was one of just ten recipients of this year's Queen's Award for Enterprise Promotion.
STEFAN Gabriel, an engineer-turned-international businessman, was excited by the entrepreneurial culture he found after he joined the 3M company. Now he aims to help foster the same spirit of enterprise and innovation at the University of Huddersfield.
He is the President of 3M New Ventures, which seeks out and supports new technologies and ambitious entrepreneurs around the world. He has now been appointed Visiting Professor of Innovation at the University of Huddersfield, which was named Entrepreneurial University of the Year in 2013 by the Times Higher Education magazine and which has formed unique and productive links with 3M. The US-based conglomerate operates in 68 countries and has no fewer than 80,000 products on the market.
Sir George Buckley, a graduate of the University of Huddersfield, rose to become CEO of 3M during his international business career, and he is the catalyst for the collaboration between university and multi-national. For example, there has been backing for the major new facility named the 3M Buckley Innovation Centre and the University's Director of Research and Enterprise, Liz Towns-Andrews, has become the 3M Professor of Innovation, occupying the sole 3M-branded professorial chair outside of Harvard in the USA.
Now, Mr Gabriel has accepted the post of Visiting Professor of Innovation, under a scheme launched by the Royal Academy of Engineering. The University of Huddersfield has been awarded two professorships by the Academy. Mr Gabriel's appointment follows that of Mr Jonathan Sands, the CEO of leading brand agency Elmwood. It is expected that the roles of the two men will complement each other and that the visiting professors – both international leaders in their field – will work closely together.
Mr Gabriel in no doubt that a university such as Huddersfield has an important role to play in knowledge-creation, innovation and understanding the needs of customers and he is looking forward to fostering this culture. During his recent visit to the University, he was one of the judging panel for the its 24-hour Design Challenge, in which students from various disciplines formed teams to respond to a design brief.
New technologies and business ideas
German-born, Mr Gabriel studied manufacturing engineering in Berlin and embarked on a 23-year career with vehicle manufacturer BMW Group. He became heavily involved in research and development, innovation management and new vehicles. Almost five years ago Mr Gabriel joined 3M and created 3M New Ventures as the global Corporate Venture initiative, which seeks out what he terms "disruptive technologies and innovative business opportunities from outside-in".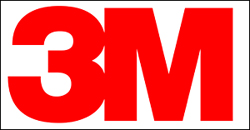 He relished the challenge of switching from a single-product company to one that was involved in an immense variety. "3M has an all-embracing portfolio seeking involvement in virtually every field, save pharmaceuticals," he says.
New Ventures has now invested in and provided mentorship for more than 20 companies since 2008, and a major benefit for 3M – regarded as one of the most innovative corporations in the world – is that it gains access to new-to-3M technologies and business ideas that it constantly needs in order to replenish its portfolio.
"You need to tune into the hotspot areas in the world for technology and for new businesses", says Mr Gabriel and universities are often where those hotspots are to be found, he adds.
3M New Ventures often works with business incubators – units that identify promising start-ups and help them secure capital and develop their ideas. Incubators are often attached to universities and Mr Gabriel is determined that Huddersfield will be no exception.
In fact, this was one of the first issues he raised when invited to work with the University and he agreed to help establish a fully-fledged business incubator.
"We are interested in promising innovations with strategic relevance for 3M and the right people who can bring those disruptive technologies or business models to the next level."