£1.5 million landmark for IPOS researchers
Wed, 26 Jun 2013 15:27:00 BST
Huddersfield chemists break commercial income milestone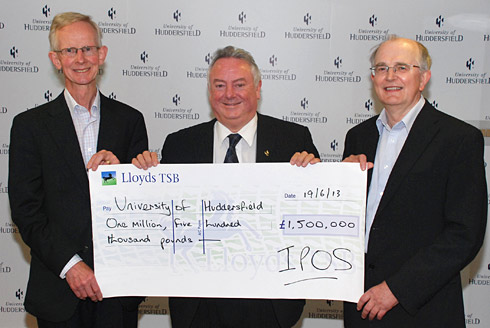 IPOS professors John Atherton (left) and Mike Page (right) are pictured with the University's Vice-Chancellor, Professor Bob Cryan.
IN less than seven years, a chemistry research team at the University of Huddersfield has developed from a four-man team into a unit of 14 scientists based in state-of-the-art labs, earning hundreds of thousands' pounds of income.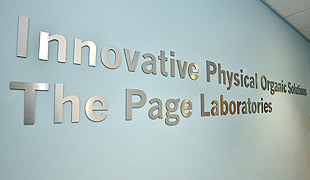 The team named IPOS (Innovative Physical Organic Solutions) was formed in October 2006 in order to work closely with industry. Founder members were Professor Mike Page, Professor John Atherton, Dr Nick Powles and Dr Matthew Sterling.
The Vice-Chancellor of the University of Huddersfield, Professor Bob Cryan, stated that once IPOS had passed the £1 million mark in commercial income, the milestone should be marked. In fact, the team has now brought in £1.5 million – and the landmark led to a celebratory presentation of a giant cheque.
Since it was founded, IPOS has worked with more than 100 companies – from firms based in the Yorkshire and Humber region to multi-nationals – and provided research and analytical services in fields such as agri-chemicals, pharmaceuticals, energy production and polymers.
IPOS might be called on for analytical work or to carry out detailed research into complex problems encountered by firms developing a new chemical processes, said Professor Page, a former Deputy Vice-Chancellor of the University who is currently Acting Dean of the School of Applied Sciences.
Professor Atherton – whose career has included 37 years' industrial experience with firms such as ICI, Zeneca and Avecia – said that the remit of IPOS had broadened since its early days, from support for process development in industry to a wide range of analytical services.
IPOS now has 14 members – including industry-sponsored PhD researchers – and is based in the purpose-built Page Laboratories, designated a Centre of Excellence by Agilent, the multi-national supplied of scientific equipment. IPOS has also pioneered an apprenticeship scheme, which enables promising young scientists to work in the lab and study part-time for a degree.
In addition to the £1.5 million in commercial income earned so far, IPOS has also secured major outside funding, notably a £2.3 million award from the European Regional Development Fund in order to work closely with the region's industry.
Professor collects Society of Chemical Industry Award
IPOS co-founder Professor John Atherton is to receive the Society of Chemical Industry's Chemistry for Industry Award, it has been announced.
The award is presented to an individual for the successful application of chemistry to enable or support a sustainable industrial development in the Yorkshire and the Humber region.
Professor Atherton's field has been process development – working with industry towards a better understanding of how the chemical processes work, so that they are as environmentally and economically efficient as possible.
He has also developed a course on the science of chemical process development which has run 40 times over the past 12 years, not only in the UK but also in Europe and the USA.
Professor Atherton is co-author of the textbook Process Development: Physicochemical Concepts.
His SCI award will be presented at a ceremony in December this year.
The IPOS labs...