University renews membership with Santander Universities Network
Thu, 11 May 2017 13:35:00 BST
The new agreement was signed by the University's Vice-Chancellor, Professor Bob Cryan, and by the UK Director of Santander Universities, Matt Hutnell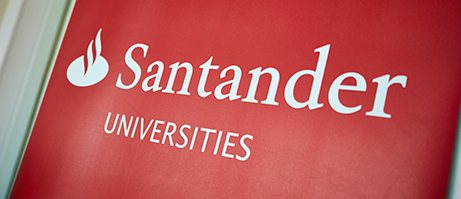 THE University of Huddersfield has renewed its membership of a network that links it with 1,400 universities worldwide and offers funding for overseas travel and study by students. At an event to celebrate the new deal, the audience heard about some of the high points of the first three years – including an inspirational student trip to China and the development of a unique online portal that will help graduates to find jobs and aid firms that are seeking talented employees.
The network is Santander Universities, established ten years ago by the banking giant. In the UK, 82 universities are members. As a result of its new three-year agreement, the University of Huddersfield will receive £60,000 per annum, providing bursaries for student travel.
Santander Universities also backs scholarships that enable overseas students to come to the University of Huddersfield, and it supports a highly successful programme of graduate internships with local firms.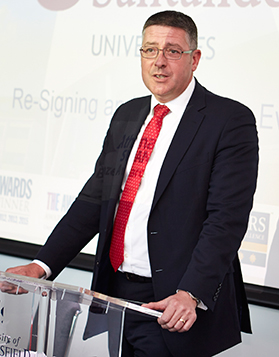 At a special ceremony, the new agreement was signed by the Vice-Chancellor of the University of Huddersfield, Professor Bob Cryan, and by the UK Director of Santander Universities, Matt Hutnell (pictured right).
Professor Cryan said how glad he was that Huddersfield had joined the network three years ago.
"We have received generous funding that has enabled large numbers of undergraduate and postgraduate students to travel abroad for study purpose.
"China, USA, Brazil and India are just some of the countries that our students have been able to visit because of the Santander initiative, and the experiences will have broadened their minds and opened up new horizons."
Professor Cryan also hailed the scholarships for overseas students.
"The presence of a large international student body at Huddersfield has become a culturally and academically enriching part of campus life, and our membership of the Santander network has been an important component in this," he said.
Mr Hutnell said that the partnership with Huddersfield had been a great success and he was delighted to extend it for another three years. He spoke about the backing provided for internships. UK-wide, some 9,500 students had been helped by the scheme and 63 per cent of them had been offered full-time employment.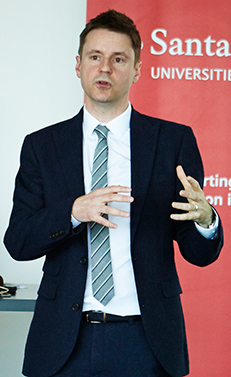 The University of Huddersfield's Head of Careers and Employability, Stephen Boyd (pictured left), said that this success rate had been even higher in Huddersfield's case, and he went to describe an online Santander Internship Portal that had been designed and created by a team from his department and from Computing and Library Services.
The Internship Scheme had created life-changing opportunities, said Mr Boyd, and the new portal – which could be rolled out to the other 81 universities in the network – created an interactive on-line community that linked interns with employers and also provided opportunities for people to offer mentorship.
The portal – developed with the aid of £5,000 from Santander – offered a great opportunity to firms to source talented new employees and to do business with other companies. It would also enable the University to forge closer links with local firms. Mr Boyd told how the latest cohort of graduates would soon embark on internships and this would enable the portal to be thoroughly tested.
He name-checked the team that had created the portal, including Lithuanian-born computer science undergraduate Aurentas Dragunas, who had done most of the technical development during his work placement.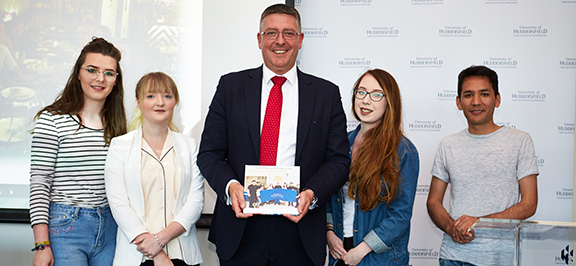 There was also a presentation from a group of four students and graduates who made a Santander-backed visit to the Anqing Primary School in Western China. They were Dilara Changis, Rebecca Maulkinson, Beth Phoenix and Chloe Cutting, who were among 50 students who made special pitches to earn a place in the party that travelled to the school and donate £1,324 that had been raised by charitable efforts at the University, where the China Office has been supporting a charity called the China Children and Teenagers' Foundation.
The four successful students described their experiences of China, including their encounters with its food and culture, visits to the Great Wall and Beijing and the lessons they took part in at the school. The visit made a big impact on the travellers – it was an "amazing experience" said Beth – and in some cases it will help inspire postgraduate research.
Also on the China trip was the University of Huddersfield's Pro Vice-Chancellor International, Professor Dave Taylor, who presented Santander's Matt Hutnell with an album of photos from the visit.
► Pictured above with Santander's Matt Hutnell (centre) are students (l-r) Chloe Cutting, Beth Phoenix, Rebecca Maulkinson and Dilara Changis