Three Minute Thesis (3MT®) competition final
Thu, 08 Jun 2017 02:30:00 BST
You are invited to the grand final of the Three Minute Thesis on Wednesday 14 June, from 5.30pm to 7.00pm in the Bronte Lecture Theatres (BLG/05). The top six people from the Huddersfield semi-final will be performing their three minute theses and a winner and runner-up will be chosen by the judges. The winner wins £1,000 and an entry into the national semi-finals. The runner-up will win £500. You will also be able to get involved with the people's choice award, which the audience choose by voting for your favourite. The people's choice winner will win £250.
The challenge
An 80,000 word thesis would take 9 hours to present. The University of Huddersfield's doctoral research students have been challenged to present their thesis in just 3 minutes.
The Three Minute Thesis (3MT®) is a research communication competition developed by the University of Queensland in 2008, in which doctoral researchers have just three minutes to deliver an engaging presentation on their thesis topic, its originality and its significance.
Huddersfield 3MT®
We had two very successful years of Huddersfield 3MT® competitions since the inaugural year 2015. You can find out more about past competitions here: Huddersfield 3MT®
Last year's winner Jim Scotson is pictured below with Pro Vice-Chancellor Professor Andrew Ball (left) and Professor Jane Owen Lynch (right).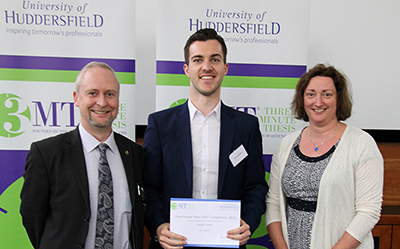 You can join in the conversation on social media using #hud3mt
For more information on 3MT® please contact the Research environment team on pgrskills@hud.ac.uk