Student designs thwart doorstep crime
Tue, 23 May 2017 13:08:00 BST
The University's Secure Societies Institute, in conjunction with West Yorkshire Police, run their annual Designing Out Crime Challenge for student product designers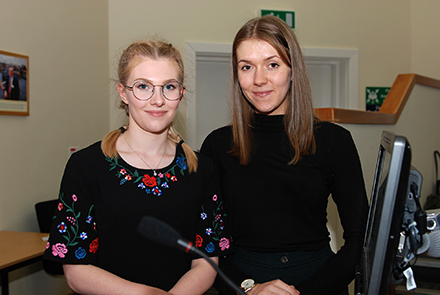 ◄First place winners Emma Hartshorne (left) and Chloe Humphrey
DOORSTEP crime can affect anyone and more often than not it's the elderly and vulnerable who are targeted and left bereft. To address this, a group of talented students at the University of Huddersfield have designed new and innovative crime prevention devices to combat the rogue traders and bogus callers.
The designs were part of the annual Designing Out Crime Challenge, in partnership with West Yorkshire Police and was launched three years ago by Professor Rachel Armitage, Director of the University's Secure Societies Institute (SSI), Rob Silkstone from the School of Art, Design and Architecture and Chris Joyce from West Yorkshire Police.
This year, first-year students from the Product Design BA/BSc (Hons) degree, were asked to address doorstep crime. Supervised by their lecturer, Paul Russell, they presented their ideas during national Rogue Traders Week to an expert panel of judges, including representatives from Age UK, Trading Standards, Secure Societies Institute, Victim Support and West Yorkshire Police.
‌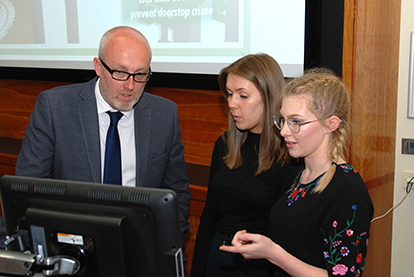 ►Emma and Chloe with West Yorkshire Police's Crime Prevention Officer Chris Joyce
‌The overall winning design, chosen by the panel, was presented by Emma Hartshorne and Chloe Humphrey called Remind Me, a door lock reminder created by Emma and Chloe with the help of Shezaan Ali and Joseph Hawdon.
‌This simple, but very useful device consists of two brightly coloured door hangers that are placed on to a door handle once locked to act as a visual reminder the door is secure. Targeted towards people suffering from memory loss or dementia, who often leave themselves vulnerable to doorstep crime by forgetting to lock the door, the hangers also have handy doorstep safety messages printed on them to remind the resident how to deal with unexpected callers.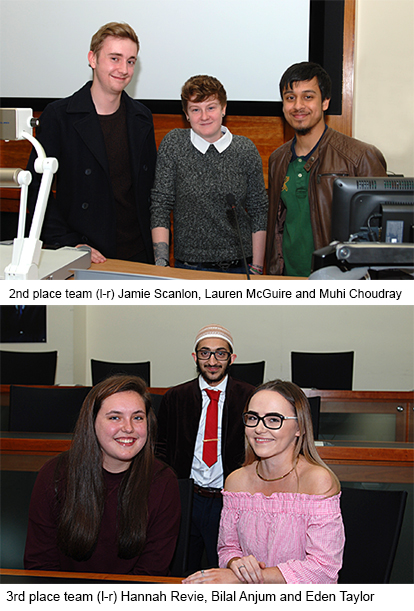 In their presentation, Emma and Chloe explained how early feedback from the product had been positive as the 91-year-old lady who trialled Remind Me, had asked to keep it permanently.
In second place was OmniAid, a detachable hand rail and distress alarm, designed by Muhi Choudray, Lauren McGuire and Jamie Scanlon. The product ensures the user has extra security when answering the door and removes the need for visible external hand rails that flag a resident as vulnerable to potential offenders.
A visitor reminder device was awarded third place and was designed by Bilal Anjum, Hannah Revie and Eden Taylor. This reminds and prompts when family, friends and carers are due to visit, ensuring the resident takes extra care when answering the door if they're not expecting anyone.
On the panel of judges was West Yorkshire Police's Crime Prevention Officer Chris Joyce who was particularly impressed with the designs of the students.
"This competition has given the students the opportunity to think about their own family and how doorstep crime would affect them," said Chris Joyce. "The whole process has placed a really important subject on to a young person's radar and now they can influence the rest of their families in taking out crime prevention precautions," he said.
Some of the winning products from previous years are in the process of being developed for industry and it is hoped this year will have the same success.
Professor Armitage, Director of the SSI, said the design challenge is an exciting opportunity for the students to become involved.
"Not only do they get to hear about a specific crime problem directly from West Yorkshire Police," said Professor Armitage, "they also get to pitch their ideas to a panel of partners ranging from Victim Support to Trading Standards, knowing that there is every possibility that these products will be taken from concept to reality.
"It's what the Secure Societies Institute is about – developing innovative solutions to real world crime problems," she added.