Marketers top Tech brief at London L'Oréal Brandstorm competition
Fri, 12 May 2017 13:12:00 BST
The Huddersfield final-year marketing students competed against 115 teams from 41 universities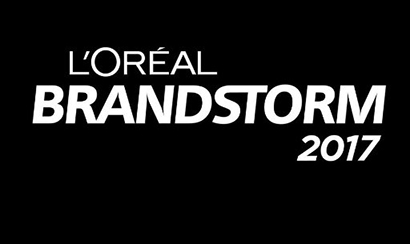 A STUDENT competition run by one of the world's most famous brands is increasingly popular, attracting entries from a record number of universities around the globe. But the University of Huddersfield has kept up its track record as one of the top UK performers, with one team coming top and another scoring a close second after a high-pressure pitching session in London.
The contest is named Brandstorm, organised by Paris-based cosmetics giant L'Oréal. For the past six years, final-year marketing degree students taking an optional final-year module named Creative Brand Management have been given the opportunity to enter the competition.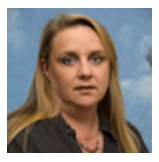 Students form teams of three to work on a brief provided by L'Oréal, linked to one of their brands. After extensive research, they devise new creative concepts and hope to get a chance to present their ideas to judges at the national final.
The growth in popularity of the competition – which is part of L'Oréal's graduate recruitment programme – meant that for 2017 it was decided to issue two briefs, a Brand Challenge and a Tech Challenge, both of them revolving around men's grooming.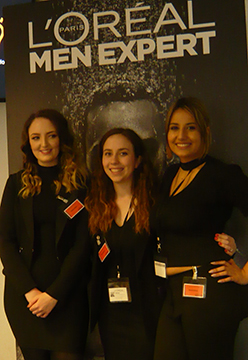 The University of Huddersfield's Creative Brand Management cohort entered four teams and two of them were selected by L'Oréal's judges to take part in the UK final. They were Team Hybris, comprising Reuben Geary, Joe Dellow and Brad Sewell, and Team Innovision(pictured right), with Anna Grzybowska, Emily Docherty and Yasmeen Abuhendi.
After giving 10-minute group presentations, Hybris were declared winners of the UK final for the Tech challenge, while Innovision were runners-up in the Brand brief.
It was a dual performance that delighted the students' course leader Carol Cloughton (pictured above left), who is a Senior Lecturer in Marketing in the Department of Logistics, Operations, Hospitality and Marketing at the University's Business School.
"It's the sixth year that Huddersfield students have entered and it's the sixth year we have had teams presenting at the final in London. Only eight teams get through to the national final in the UK, and this year 41 universities and 115 teams took part, so our students' continued success demonstrates how good they are," she said.
For their Brand Brief challenge, the Innovision team – which included overseas students in Anna from Poland and Yasmeen from Bahrain – developed a grooming product that aimed to improve a man's sense of well-being. The winning Hybris trio came up with a concept based on the Internet of Things that would aid hydration.