Kenyan "learning by doing" project rolled out for second year
Fri, 12 May 2017 12:50:00 BST
BA Business Studies first-years' project furthers link with Kenya's Kajire Girls' High School and the social enterprise TenSenses Africa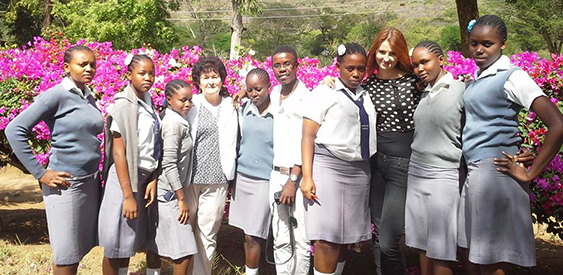 ◄ Pontis Foundation's Ivana Ulicna (third right) with Kenyan High School students
DURING their first year of studies, a team of business undergraduates at the University of Huddersfield have already been able to make an impact in the developing world.
They have researched a social enterprise based in Kenya and have relayed their findings as part of a burgeoning link with the Kajire Girls' High School, in the African country's coastal province.
Skype connections between the UK and Kajire have proved unreliable, so the Huddersfield students made special recordings of their presentations and posted them online, so that the Kenyan girls could watch and discuss them whenever they liked.
‌‌The project is supervised by University of Huddersfield Senior Lecturer Dr Radi Haloub who describes it as "learning by doing". It is a first-year module that forms part of the Business Studies BA course and it has taken place for a second year, after being piloted in 2016.
‌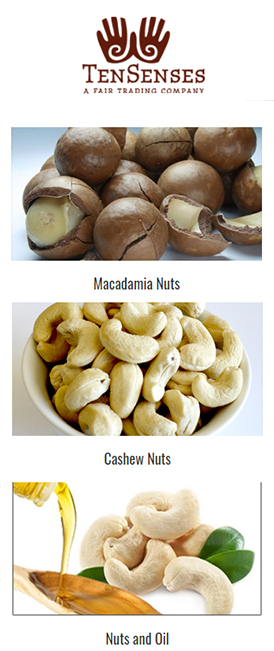 This year a team of seven students – from the UK and overseas – was formed and once again it researched the business model of the Kenya-based social enterprise named TenSenses, a fair trade organisation that specialises in high quality macadamia and cashew nuts, and the oils they produce.
‌The Huddersfield students then relayed their findings to Kajire Girls' High School, covering topics that included sustainability, ethics and fair trade.
‌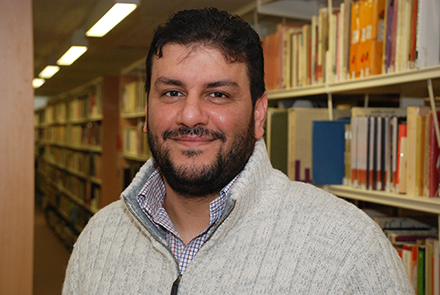 The fact that both TenSenses and the school were keen to participate in the project for a second year showed that they thought it was worthwhile, said Dr Haloub (pictured left).
The link was brokered by a former University of Huddersfield student, Ivana Ulicna. She is from Slovakia and after she had completed her BSc and Master's degrees, her passion for international development led her to a job as a Project Co-ordinator with the Pontis Foundation, based in her home country.
She was keen to keep up a connection with the University of Huddersfield's Business School, and her new job enabled her to develop the link between business students, TenSenses and the Kenyan school. Ivana has stayed in touch with the Huddersfield team and with Dr Haloub, ensuring the continued success of the project.
The 2017 team members were John Pierce, Matthew Mwendapole (from Zimbabwe), Ha Vu (from Vietnam), Joe Petein, Callem-Caine Griffin, Kierhardy Ansell, and Chelsea Milliken, who was group leader.
She commented that the group faced various challenges, including the Skype link, differing time zones and the fact that the Kenyan girls were in the midst of exams.
"But it was amazing to work with different nationalities and to share the knowledge we have learnt from the modules we studied. Personally, this has helped me gain confidence in presentations and group work. On behalf of the team, I want to thank the University and Radi for giving us this opportunity," said Chelsea.