Honorary-award recipient champions children in care
Fri, 05 May 2017 16:02:00 BST
Poet Lemn Sissay gave his name to the University's Sissay Scholarship for Care Leavers, now on its second term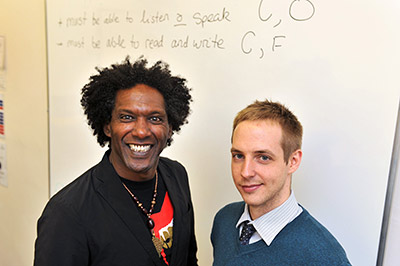 FORMER Honorary award-winner of the University of Huddersfield and renowned poet Lemn Sissay MBE, has received the accolade of being appointed on to the Board of Trustees of the Foundling Museum, in recognition of his work to help care leavers.
Foundling is an historic term applied to children, usually babies that have been abandoned by parents and discovered and cared for by others. The Museum, through a dynamic programme of exhibitions and events, celebrates the ways in which artists of all disciplines have helped improve children's lives for over 275 years.
Lemn Sissay, was himself brought up in care and throughout his literary career has supported looked after young people. One such initiative is the University of Huddersfield's Sissay Scholarship for Care Leavers. Now in its second term, the scholarship saw applications pour in from around the world and in 2014 was awarded to former foster child Nick Stavris (pictured left with Lemn Sissay) who is now studying for his PhD at the University.
Lemn Sissay's other roles include Associate Artist at the Southbank Centre, Patron of the Letterbox Club supporting children in care, Ambassador for the Children's Reading Fund, Trustee, Trustee of Forward Arts Foundation and Foundling Fellow at the Foundling Museum.
For his Foundling Fellowship, he created a striking text for the Museum's Cafe in 2014. Called Superman was a Foundling it explored the powerful role of orphaned, fostered and adopted children in our culture.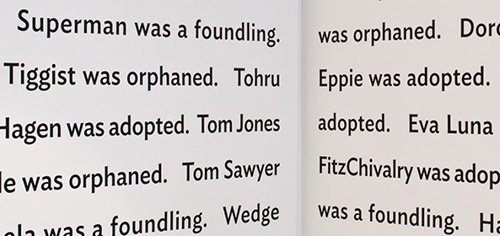 In the poem, he quotes a long sequence of characters from history, legend and fiction who were orphans, fostered, "kinship fostered", adopted or raised in institutions, including Cinderella, David Copperfield, Jane Eyre, James from Roald Dahl's James and the Giant Peach, Superman and Harry Potter.
At a major student conference earlier this year at the University of Huddersfield, the poet spoke about how foster children are consistently in popular culture, but are not known for it.
"Fostered and adopted children and children in care have been front and centre in popular culture since our childhood, but we have not seen it, for no other reason than our prejudice against the child in care. Otherwise we would say 'that kid's a foster child, he must be like Harry Potter!'"
Larissa Joy, Chair of the Foundling Museum's Board of Trustees, said: "Lemn Sissay's extraordinary empathy with the work of the Foundling Museum and the creative contribution he has made over past years as a Fellow of the Museum, have already had a profound and positive impact on so many visitors to the Museum. We look forward with huge excitement to continuing to develop this relationship in the years ahead."
Lemn Sissay said the Foundling Museum holds a very special place in his heart and he is looking forward to playing a part in shaping its continued growth and success.