First book of its kind dedicated to forensic science education
Mon, 15 May 2017 13:31:00 BST
The editor-in-chief of the new book, Forensic Science Education and Training, is the University's Dr Anna Williams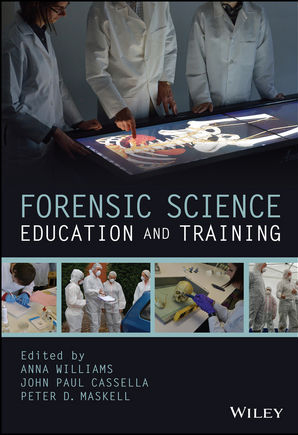 THE study of forensic science has been a major growth area, resulting in a massive global demand for teachers and lecturers who are up to speed with the latest educational developments in the discipline. Now, the University of Huddersfield's Dr Anna Williams (pictured right) – Principal Enterprise Fellow in Forensic Anthropology – is editor-in-chief of a new book that will help to seal the skills gap.
Titled Forensic Science Education and Training, the book has 21 contributors from around the world, who have written chapters that deal with almost every aspect of forensic science and crime scene investigation and how it is taught. Topics include the training of practitioners in DNA profiling; innovative teaching methods that include apps and e-gaming; student exercises for mock crime scene and disaster scenarios; and the design of courses in the investigation of sexual offences.

"It's not a text book for students," emphasised Dr Williams. "It is for lecturers and teaching assistants and all people who train forensic practitioners, helping them to design courses and practical exercises."
Forensic Science Education and Training is the first book of its type and Dr Williams has been involved in the ambitious project for the past six years. Her co-editors are Professor John Paul Cassella, of Staffordshire University, and Dr Peter Maskell, of Abertay University.
The editors collaborated on the opening and closing chapters – dealing with the past, present and future of forensic education – and Dr Williams's contributions also include a sole-authored chapter on forensic anthropology teaching practice. She covers the theory of the subject and aspects that include the use of human skeletal material for teaching purposes, plus post-mortem examinations.
She also collaborated with Peter Cross from UCLAN on a chapter describing the educational use of taphonomy facilities – often dubbed "body farms" – for the study of decomposition. With Kris Thomson, she writes about virtual anatomy teaching aids and with Anna-Maria Muller and Luke Taylor, she covers online teaching aids, such as scientific demonstration apps and social networks.
"Forensic science has massively exploded as a subject," said Dr Williams. "There are more calls for degrees in it, so more calls for people learning how to teach it."