Bishop Jonathan gives inaugural professorial lecture
Fri, 19 May 2017 10:55:00 BST
"…work should not revolve exclusively around people's earning power, but also value the contribution they make to the well-being of society and the environment…"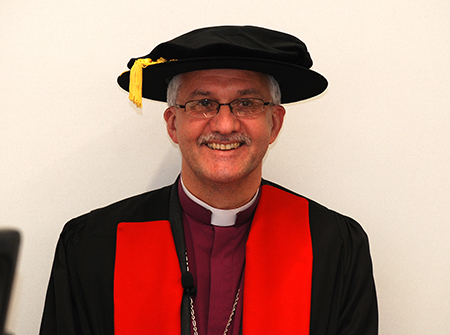 IN a public lecture at the town's university, the Bishop of Huddersfield has called for a new definition of work that does not revolve exclusively around people's earning power, but also values the contribution they make to the well-being of society and to safeguarding the environment.
Theology can play an important role, using Biblical teachings as a way to develop alternative ways of living, argued the Right Reverend Dr Jonathan Gibbs (pictured right). He has been appointed Visiting Professor of Theology at the University and was delivering his inaugural lecture.
One of his themes was how to balance use of the earth's resources to supply human needs with the need to care for the planet and the creatures who shared it.
"Given what we are hearing at the moment about the impact of climate change on both natural ecosystems such as the Great Barrier Reef and on human well-being in drought-affected East Africa and Australia, it is surely as important as it has ever been that we should develop a moral vision and framework that can help us resist the rapaciousness and folly of human beings who seem unable to see beyond the end of their car bonnet," said Dr Gibbs.
Theology has a contribution to make to public debate about issues such as the future shape of work because it is rooted in a long tradition of reflection on human life, he argued.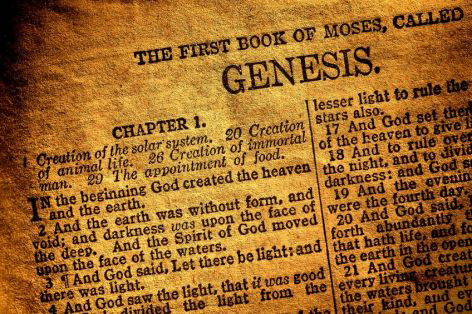 "A theology of work tries to help us understand our existence, to find meaning within it where possible. It asks the question, 'what are we meant to be here for?', and how therefore should we approach our daily lives and maybe even try to change things for the better, both for ourselves and for others."
Dr Gibbs suggested that work is "a purposeful activity intended to achieve goals and to meet perceived needs" – a definition that has the merit of flexibility, he added.
"It could refer equally well, for instance, to the parenting and nurture of children or to volunteering for a local charity. It is not restricted to work as paid employment, which is how people often think of work, to the exclusion and detriment of a huge amount of unpaid activity which is of great importance to human well-being and indeed that of the natural world but which does not register within calculations of GDP and national wealth.
"We need to look for a framework for understanding the place of work in human life which is bigger than purely economic."
Dr Gibbs – who is the first Bishop of Huddersfield after the position was created by diocesan reform in the Church of England – introduced Biblical scholarship to his lecture.
"The opening chapters of the Book of Genesis have a great deal to say about the place of human beings within the world under God, and the tasks that God gave to humankind in his original intention for their life within the world that he had made," said the Bishop.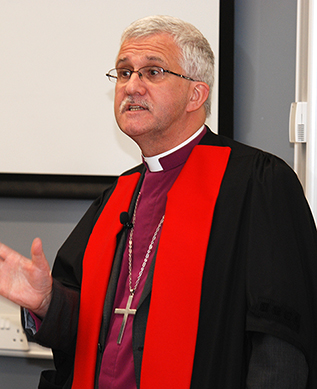 Genesis was never intended to be a scientific textbook explaining how the world was created, he added. It was "a profound and highly complex weaving together" of strands of theological reflection, which repaid careful analysis today "as we consider the disastrous impact that we human beings are having on the world in which God has placed us".
Dr Gibbs called for a debate on "the importance of people having something meaningful to do, not necessarily by way of paid employment, but enabling them to make a meaningful contribution to the well-being of others and the stewardship of our shared world".
That was the kind of work, he suggested, that every human being should have the opportunity to undertake in one way or another.
"For those of us who identify ourselves as Christians, our contribution to that debate can and should be couched in terms of what we find within the Christian scriptures and Christian tradition.
"A theology of work conceived on this basis can offer a way of looking at the world through fresh eyes – and one which is potentially relevant to educators, employers, politicians and council officials. This perspective may be rooted in the Christian faith, but it resonates well with contemporary and long-standing concerns about work and issues like identity, dignity, human exploitation, and care of the environment," said Dr Gibbs.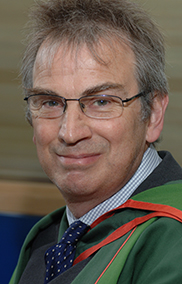 At the close of his lecture, and before fielding questions, he was thanked by Professor Pete Sanderson (pictured left), who is Dean of the University of Huddersfield's School of Education and Professional Development. He said that Dr Gibbs's themes were allied to some of the school's key areas of research.
The Bishop had been introduced by the University's Vice-Chancellor, Professor Bob Cryan, who formally inducted Dr Gibbs as a Visiting Professor.
Professor Cryan reminded the audience that the last time Dr Gibbs had spoken at the University – to deliver the 2015 Harold Wilson Lecture – it had been in the midst of a General Election.
"He lit a rocket under what he described as a 'deeply depressing' campaign. One of his comments was that 'politics is far too important to leave to the politicians'," recalled Professor Cryan
Now the Bishop was back for a lecture – and once again it was in the midst of a general election campaign, said Professor Cryan. But this time his topic would be a Christian perspective on contemporary challenges around the environment and the world of work.