£6 million facelift for science building
Wed, 17 May 2017 14:03:00 BST
Work on the redesigning of the Joseph Priestley Building is under way and completion is due around the end of the year

IT started life in the 1960s, down to its shape, as the "Z Building" and has been upgraded and adapted many times over the years. Now it is named the Joseph Priestley Building and undergoes its most ambitious refit yet, which will provide exceptional new facilities for the study of science at the University of Huddersfield.
The £6 million project is underway, and is the first collaboration between the University and Manchester-based Bardsley Construction. The lowest three of the four storeys are being gutted and will be completely remodelled internally. The external appearance will change too, with a new façade – featuring finned metal cladding – that will harmonise with the aesthetics of the surrounding campus. Work is due to be completed by the close of 2017.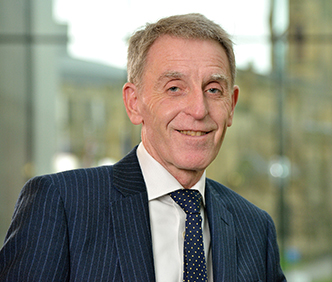 Before its most recent name change – commemorating a local scientist famed for his discovery of oxygen – the block was known as the West Building and was home to students and staff in both Applied Sciences and the Humanities.
But the recent completion of the £28 million Oastler Building, which is a new base for Humanities, means that the Joseph Priestley can become a dedicated science block.
"This allows the School of Applied Sciences to grow and from next year its students will have better facilities than ever," said University of Huddersfield Director of Estates and Facilities Colin Blair (pictured right).
The development also has an eye on the future, because part of the project is the construction of a link that will be in place to connect the Joseph Priestley Building to an all-new science block planned for an adjacent space currently in use as a car park.
However, the next major development at the University of Huddersfield will be a new £30 million home for the School of Art, Design and Architecture, to be constructed on a site that has been cleared to the west of the Campus. It is to be known as the Barbara Hepworth Building – after the famed Wakefield-born sculptor – and is scheduled for completion by autumn 2019.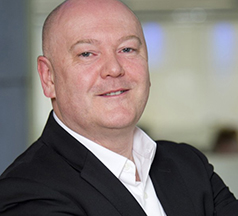 The University of Huddersfield aims to work with both national and regional contractors and suppliers on its building projects, so a first collaboration with Bardsley Construction – which has a Leeds office – was a welcome development, said Mr Blair.
Rick Smeaton (pictured left), Bardsley regional manager in Yorkshire, commented: "This contract represents our first major project for the University of Huddersfield and provides our Yorkshire office with an ideal opportunity to enhance our reputation for the delivery of high quality and bespoke educational facilities."
Other companies involved in the project include the architectural practise AHR – now a global firm but with historic roots in Huddersfield. It was responsible for the design of the much-praised Oastler Building, opened in April by the University's Chancellor, HRH The Duke of York.