Kathryn nets top bursary prize for her knitwear designs
Wed, 01 Mar 2017 16:14:00 GMT
Textile and Surface Design student Kathryn Lund wins the highest bursary of £2,500 from the Worshipful Company of Framework Knitters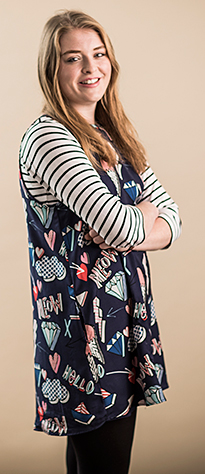 THE sights and sounds of distant Thailand proved to be a winning formula for a student project after winning a top award with a prestigious livery company.
Kathryn Lund (pictured left), aged 21-years-old, is currently in her final year of a BSc (Hons) in Textiles and Surface Design and has been awarded the highest bursary available of £2,500 from the Worshipful Company of Framework Knitters.
The Framework Knitters, who are descended from an ancient London guild and were established in 1589, have been helping students of design, management, marketing, science and technology relevant to the knitting and knitwear industries with bursaries since 1985.
Kathryn's project consisted of images and textile pieces inspired by the colourful temples in Thailand after she spent a summer teaching English in the country.
"I was so taken with the bright colours and patterns of the temples in Thailand I wanted to bring the same vibrancy into my designs," said Kathryn.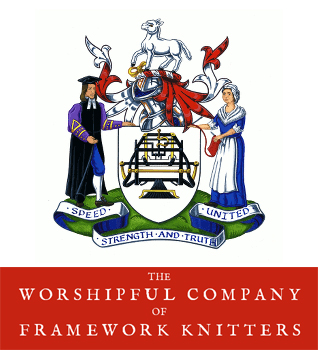 Kathryn weaved together different materials into her samples to create 'a quirky look' and says because of the experience gained during her placement year in the menswear knit department of Manchester-based Visage, she was therefore able to come back and use the University's knitting machines with increased confidence and capability.
‌"I was given training on the Japanese Shima Seiki CAD-based knitting machine at Visage," said Kathryn, who is originally from Ormesby in Middlesbrough.
"We have one at the University, so I was able to be more creative in my project and because I showed the Framework Knitters I could use traditional, as well as the high-tech knitting machines, this demonstrated my skills and versatility."
The prize of £2,500 is enabling Kathryn to be more creative with her final-year project, which she is currently completing.
"I have been able to buy some original Japanese yarn which I wouldn't have been able to previously," she said. "Before I won the bursary I was only able to buy material which I knew would work, but now the money has allowed me to be more creative and take a little bit of risk."
Kathryn, who went to Middlesbrough's Nunthorpe Secondary School, wanted to come to the University after being impressed by the designs created by her secondary school textiles teacher, who was a graduate of the University of Huddersfield.
On graduating, she hopes to be able to work for a knitwear design company where she will have the scope to fully indulge in the creative process.