Hudds international students impress at Going Global 2017
Fri, 09 Jun 2017 14:57:00 BST
The theme of the 11th annual British Council's Going Global conference was Global cities, connecting talent and driving change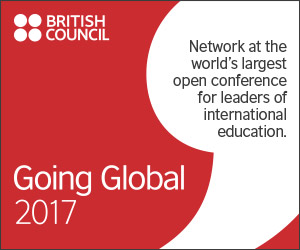 THE voices of four international students from the University of Huddersfield left a lasting impression on higher education leaders from across the world when they were chosen to speak at a global conference. And it was said their contribution will have an impact on future policies and regulations.
Attending the British Council's 11th annual Going Global conference, were Huddersfield students Fahmida Nisa Karim from Bangladesh,Moses Owoupele from Nigeria, Jigyasa Malhotra from India and Mai Nguyen from Vietnam.
Along with 15 other students from universities across the UK, they were chosen to take part in the conference where leaders in international education come together annually to debate the future of further and higher education.
The theme of this year's conference was Global cities, connecting talent and driving change and the student's took part in the tables session called: 'The impact of cities on the student experience' co-hosted by the British Universities International Liaison Association (BUILA) and PIE News, the industry's main news website.
On each of the ten tables were two students, one from a town, another from a city and they were asked questions from six international higher education leaders on their student experience and how they have found studying in the UK. You can listen to the entire workshop here
‌Fahmida who is studying for a degree in economics is nearing the end of her placement year and described how at the end of the session a dedicated spokesperson from each table was chosen to give feedback on what was discussed and she said it was really interesting to hear what the other students from around the UK had to say about their experiences.

"The best part about it," said Fahmida, "was after they had heard our honest feedback they said this would help make changes in the years ahead to enhance the experiences of other students coming to study in the UK. To know what we did is going to have a positive impact and change lives is fantastic," she said.
Among the six delegates on Moses' table were two Nigerian professors who asked him about security in the UK, paying student fees and why he chose to come to the University of Huddersfield.
"The reason I came to Huddersfield is because it is a town," said Moses who has just finished his degree in law and will be graduating over the summer. "I didn't want a city. I wanted somewhere I could focus on my studies without the distractions of everything being in a city entails. And because Huddersfield has excellent transport links to Manchester and Leeds, I'm never more than an hour away if I feel I ever do need to visit one," he said.

Fahmida, Moses, Jigyasa and Mai all agreed taking part in Going Global 2017 was one of the highlights of their time at the University and that after hearing all the feedback it was their student experience from the University of Huddersfield which seemed to come across as the most positive.
‌Fahmida said she believes this is to be because of the wealth of campus events hosted by the University's international student societies that helps students to learn, celebrate and showcase individual cultures, which she was surprised to find out, not all universities do.
Of the Going Global 2017 event, which is quoted as being 'the international conference for leaders in higher education', the University's Director of International Development Andrew Mandebura said:
"It is great to see the views of our international students being taken seriously by leaders in international education and also for them to express these so eloquently and demonstrate just what a multicultural town Huddersfield has become, in part thanks to the University."