Huddersfield professor becomes a Dame
Fri, 16 Jun 2017 10:52:00 BST
Professor Xiangqian Jiang has been created a Dame in the 2017 Queen's Birthday Honours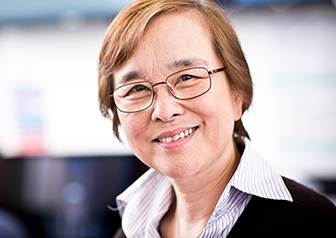 THE remarkable life and career of the University of Huddersfield's Professor Xiangqian Jiang (pictured right) – known as Jane – have led to her being created a Dame in the 2017 Queen's Birthday Honours.
It is a reward for her global reputation in metrology – the science of measurement – plus her contribution to British-based engineering and advanced manufacturing, and it is the latest stage in a journey that has taken her from self-education in Chairman Mao Tse-Tung's China, where she was compelled to work on a production line, to academic eminence in her adopted UK.
Dame Jane said: "I am very humbled to receive such an honour. I would like to express my deepest thanks to all my colleagues, friends and research students throughout the years. Without their support, it would not have been possible.
"I am also grateful to my family, which includes a mathematician, a science teacher and a literature teacher. They always give me unconditional support. Philosophical arguments are very frequent – but very enjoyable!"
Dame Jane's roles at the University of Huddersfield have included research director of its Centre for Precision Technologies (CPT) and Director of its EPSRC Centre of Innovative Manufacturing in Advanced Metrology. She is now the director of the £30 million Future Metrology Hub that is based within the CPT. Its mission is to develop new technologies and universal methods that will integrate measurement science with design and production processes, to aid the development of digital, high value manufacturing.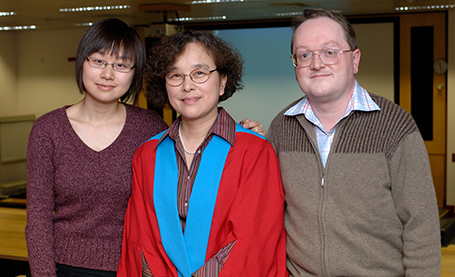 ◄Jane with her husband Professor Paul Scott and her daughter Dr Rachel Yu
Among the first to congratulate Dame Jane on her new honour was the Vice-Chancellor of the University of Huddersfield, Professor Bob Cryan CBE, delighted by the success of his colleague and fellow engineer.
"From very humble and challenging beginnings, Jane has carved out an outstanding academic career that places her amongst the top engineers within the UK and indeed the world," he said.
"She is one of only a small number of female engineering professors in the UK and a wonderful role model for others to follow. Jane is a truly inspirational individual who has overcome extremely difficult times to become a leader in her chosen profession."
Dame Jane has earned a sequence of academic and professional honours, including Fellow of the Royal Academy of Engineering in 2012, and a prestigious Royal Academy of Engineering Professorship, conferred in 2016. She has published over 330 papers, is the author or co-author of eight books and holds several patents in the field of measurement science and surface metrology.
Jane's remarkable journey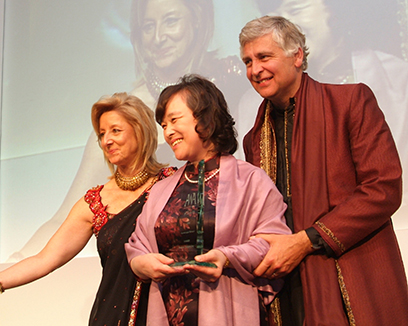 ► Jane winning the Asian Women of Achievement Award in 2006
Her journey to eminence is a remarkable saga. Dame Jane's parents were doctors in Shanghai, but lost their homes and careers during Mao's Cultural Revolution in the late 1960s. At the age of 15, Jane was put to work on a production line in a factory making buses and remained there for almost 20 years, but never lost her determination to become a scientist.
Her innate scientific ability meant that she moved from the production line into the metrology laboratory and worked her way up through the ranks, while she spent her evenings teaching herself engineering and mathematics, having attended night classes to make up for lost schooling.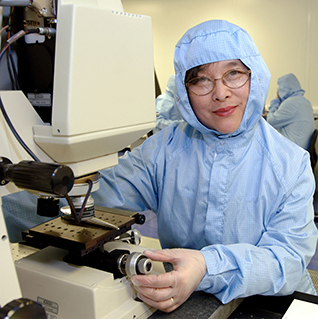 For two decades the authorities turned down her request to go to university, but in 1990 her results were so good on the National Graduate Admission Examination she was allowed to enrol directly for a Master's at Huazhong University of Science and Technology. This led to a PhD and in 1999 she won an award for China's best engineering dissertation of the decade.
At the age of 38 she came to Britain, working as a research engineer at Birmingham University, before relocating in 1998 to the University of Huddersfield, which became home to the Centre for Precision Technologies. In 2003 she was appointed a professor.
‌In 2006, Dame Jane received the Royal Society Wolfson Research Merit award, plus the Lloyds TSB Outstanding Woman of Achievement award and was presented to Her Majesty The Queen as one of the people that had made a significant contribution to national life in that year.
In 2007, she was ranked as the fifth most influential women of Chinese origin in the world and in 2014, she received the Sir Harold Hartley Medal from the Institute of Measurement and Control, and also the Institution of Engineering and Technology Innovation Award for leading work on manufacturing technology.