Historical experts from around the world attend conference
Mon, 12 Jun 2017 11:44:00 BST
Historians came together to analyse how ancient objects can give profound insights into Europe's religious upheavals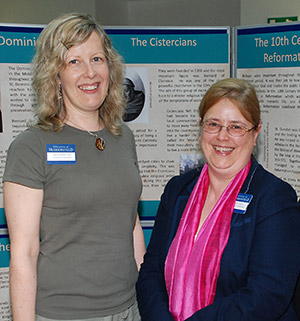 ► Pictured Dr Katherine Lewis (l) and Dr Pat Cullum
ART and artefacts – including paintings, manuscripts, sculptures, religious carvings and everyday objects such as spectacles – offer historians an unparalleled opportunity to reach a closer understanding of the cultures, societies and peoples of the past. Now, the University of Huddersfield has held a conference attended by dozens of historical experts from around the world who came to analyse how ancient objects can give profound insights into Europe's religious upheavals 500 years ago.
The event was titled "The Material Culture of Religious Change and Continuity: 1400-1600". Over two days, it featured 33 speakers from universities and institutions throughout the UK and Ireland and from countries that included the USA, Romania, France, Greece, Norway, the Netherlands, Brazil and Hungary.
Topics included illuminated manuscripts, nuns' spectacles, elaborate altarpieces, personalised prayer books, paintings, ceilings, rosary beads, carvings of the Virgin Mary, and vestments made out of peacock feathers. Some speakers discussed how such objects would often be destroyed or defaced by iconoclasts in the wake of the Protestant Reformation sparked by Martin Luther in 1517. Others noted that the objects and images continued to be important to both Catholic and reformist devotions after the Reformation.
"Religious objects could be incredibly lavish," said conference co-organiser Dr Katherine Lewis. "That become a bone of contention in the Reformation when it was feared that if a church had a particularly gorgeous statue of a saint or the Virgin Mary then people would be venerating the statue rather than the holy figure it was supposed to represent."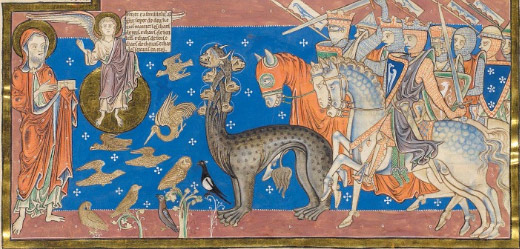 ◄ Here is a picture of a beast with seven heads from a digitised manuscript from Cambridge, Trinity College MS R.16.2 which was analysed at the conference
A backdrop to the conference was the fact that this year marks the 500th anniversary of Luther's Reformation, and a distinctive feature of the event was that it brought together historians whose periods would usually keep them apart, explained Dr Lewis.
She is a late-medievalist and her co-organiser Dr Sarah Bastow is an early-modernist. Their specialisations would normally result in conferences that covered either pre or post-Reformation Europe, with the early 1500s as a dividing line.
"So one of the distinctive things about our conference is that we were going across that boundary, which is an artificial one anyway - people at the time didn't think like that," said Dr Lewis. One benefit was that historians working on similar material but in a different timeline were able to meet and hold fruitful discussions, she added.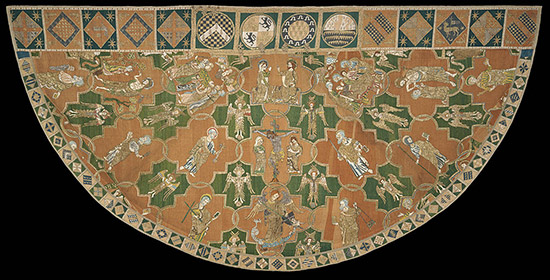 ►The Syon Cope, 1310-1320, England. Museum no. 83-1864. © Victoria and Albert Museum, London, curated by one of the conference's plenaries Glyn Davies
The conference also helped to emphasise the University of Huddersfield's well-established strengths in medieval and early modern history, said Dr Lewis. She presented a paper herself, as did Dr Pat Cullum and Dr Lisa Colton.
Speakers who gave plenary lectures were Dr Nicholas Bell, the Librarian of Trinity College, Cambridge, who spoke of the destruction and defacement of books before and after the Reformation; Professor Merry Wiesner-Hanks, of the University of Wisconsin-Milwaukee, on "making gender visible in the Era of Reformation"; and Dr Glyn Davies, Curator of Late Medieval Art at London's Victoria and Albert Museum, who spoke about the presentation of medieval and early modern religious objects to a popular audience.
Now it is planned to produce a volume of essays based on papers at the conference and the success of the event at the University of Huddersfield will probably lead to a second, with a different focus, said Dr Lewis.