Uni key role in work on electric powered bike and walker trailers
Thu, 26 Jan 2017 14:51:00 GMT
Professor Rakesh Mishra's expertise on sensors has been sought for the multi-million pound Low Impact City Logistics project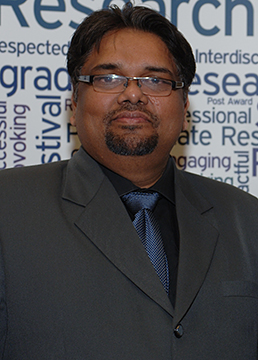 UNIVERSITY of Huddersfield scientists are collaborating on the development of a powered trailer that will enable cyclists to deliver large quantities of goods bought online. It is expected that the breakthrough will help ease the mounting traffic congestion caused by the e-commerce boom.
The University's Professor Rakesh Mishra (pictured left) is part of a consortium of organisations and businesses with plans to develop and trial an innovative electric powered bike and walker trailers to deliver packages in the centre of London.
Specialist product development consultancy Fernhay and technology development company Skotkonung will work alongside the University of Huddersfield to design and develop the IP protected prototype, which Outspoken Delivery, the UK's largest cycle-based delivery company, will test in Cambridge before live trial testing go ahead in London's City of Westminster by global logistics provider UPS.
The design signals the next generation of delivery trailers – combining speed, mobility and analytics to provide a sustainable delivery system that could signal a new future for urban courier logistics.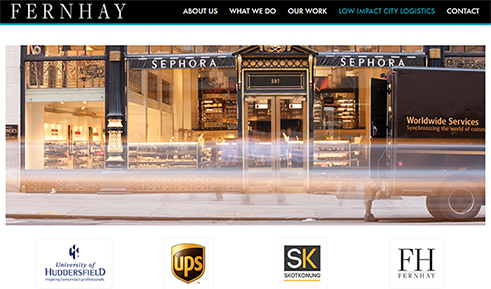 The project, entitled Low Impact City Logistics, is part of a £10 million investment by the UK's innovation agency Innovate UK in a range of collaborative research and development projects that aim to improve the efficiency and experience of the end-to-end journey for people and freight. The consortium will co-ordinated by Fernhay who were awarded the funding following a competitive pitch process.
Development of the trailer system has already begun and trials by UPS taking place early in the New Year in London's Mayfair, one of the densest delivery areas in the capital. The trial comes at a crucial time for logistics providers, who have seen the rates of B2C domestic package delivery increase significantly as e-commerce continues to grow.
‌Fernhay's innovative technology is net neutral, so the weight of the trailer is not felt by the handler, allowing for increased last mile deliveries by foot or cycling. This will result in a decrease in the use of vans in congested urban areas, providing environmental benefits as well as increased parcel drop rates and more flexibility in delivery routes.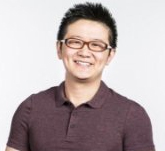 Fernhay enlisted Professor Rakesh Mishra, who has taken part in many research collaborations with industry and heads the University of Huddersfield's Energy, Emissions and the Environment Research Group, where Dr Yiqing Meng (pictured left) is a Research Fellow.
His past work has included sensor development and their role will be to develop the sensors and the data analysis system that will create the "net neutral" effect.
Professor Rakesh Mishra, University of Huddersfield said: "We are delighted to be part of this exciting project that has the potential to provide substantial costs savings to the freight transport sector as well as significant benefits for the environment. The combination of our expertise in sensor design and analytics along with the expertise and knowledge of the consortium partners will ensure that we deliver an innovative technology that will have a transformative effect."