Uni, Council and charity share Holocaust Memorial Day
Mon, 30 Jan 2017 14:48:00 GMT
"…Holocaust Memorial Day is much more than a simple act of remembrance… it is an annual event of growing relevance…"
‌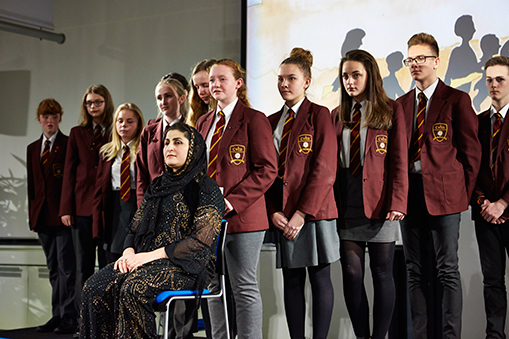 ‌► The performance by Colne Valley High School with Kurdish refugee Fatima
DRAMA, art and music, plus personal testimonies of past atrocities and present-day persecutions were at the heart of 2017's Holocaust Memorial Day at the University of Huddersfield.
Organised in conjunction with the 6 million+ Charitable Trust, the event was titled They could not erase us, and drew its inspiration from the experiences of three women who have survived attempted genocide – Iby in Czechoslovakia and Hungary under the Nazis, plus the more recent experiences of Jasminka in Bosnia with its "ethnic cleansing", and Fatima in Iraq, where former Iraqi dictator Saddam Hussein persecuted the Kurds.
The women were present at the event, where their stories had helped inspire dramatic presentations from students of Honley, Colne Valley and Westborough high schools. There were also musical performances, including a solo on the saz by Kurdish musician Halweft and a specially-composed piece titled Timeless Remembrance from University of Huddersfield student Daniel Fisher-Jones.
The University of Huddersfield is to become the site of a Holocaust Memorial and Learning Centre for the North of England, and for the past four years the University has marked Holocaust Memorial Day with a special lecture. Two years ago, it was delivered by Iby Knill, born to a Jewish family in Czechoslovakia, where she suffered from Nazi oppression.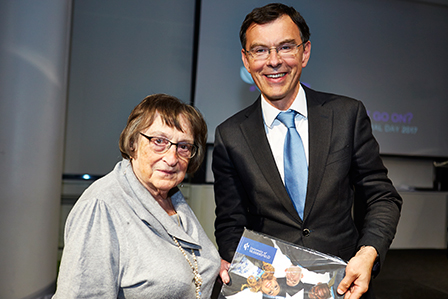 ◄ Holocaust survivor Iby Knill with the University's Deputy Vice-Chancellor, Professor Tim Thornton
After a kaleidoscope of experiences, which included resistance work in Hungary, she was finally arrested and despatched first to Auschwitz and then sent on a forced match to Bergen Belsen, being liberated by British troops on 15 April, 1945. She married a British soldier and relocated to Leeds where she led a successful career and raised a family before finally beginning to write and lecture about her wartime experiences.
In 2016, Iby was awarded an Honorary Doctorate by the University of Huddersfield. Too ill to collect it at the November ceremony, she was represented by her grand-daughter Julia Kinch, who was back again to deliver a centrepiece talk at the Holocaust Memorial Day event in which she outlined her grandmother's experiences under the Nazis and expressed her "utter amazement that at my age, my grandmother had been through so many experiences that I couldn't begin to comprehend".
Iby's story taught her how precious life is, how resilient humans are and how powerful it can be to share our stories and experiences, said Julia. She analysed how being the granddaughter of a Holocaust survivor had affected her life and beliefs.
"We all have a responsibility to protect life – both our own lives and the lives of others," said Julia. It was vital to challenge actions and ideas that encouraged discrimination, she went on.
"The differences between us are what make us so special. If we forget that difference is okay, that we are allow to disagree with each other, then we forget what it is to be human."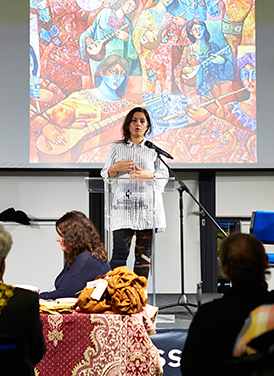 ◄ Speaker Iraqi refugee Fereshteh Mozaffari
On this occasion, Iby Knill herself was able to be present at the event, which concluded with a reading of her harrowing Holocaust poem I Was There. This followed a rendition of the Jewish prayer of mourning, from Rudi Leavor.
Also speaking at the event was Fereshteh Mozaffari, formerly a TV journalist in Iran but forced to live as a refugee in the UK after she fell under suspicion of espionage in her homeland. Now, a writer of stories and plays, she spoke about the challenges of rebuilding her life in a strange country and adapting to a new language. She read a wryly amusing poem about her experiences of British life.
An intimate evening of shared experiences
‌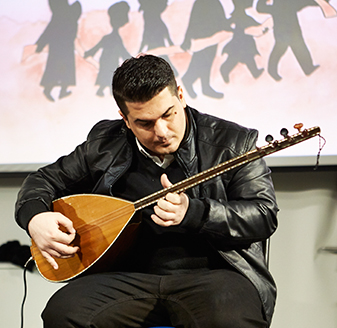 ► Kurdish musician Halweft playing the saz
The multi-faceted Holocaust Memorial Day event was hosted by the Deputy Vice-Chancellor of the University of Huddersfield, Professor Tim Thornton, who is a trustee of 6 million+.
He said that the University was determined to play its part in commemoration and study of "the gravest crime in modern history – probably of all history".
"There has never been a time when it was not important to study the episode and learn its lessons. But – without being alarmist – it could be argued that the urgency has increased," said Professor Thornton. "There have been terrible episodes of persecution and intolerance in many parts of the world and there has also been disquieting evidence that anti-Semitism – the oldest and most pernicious of prejudices – has been on the rise in the UK and elsewhere."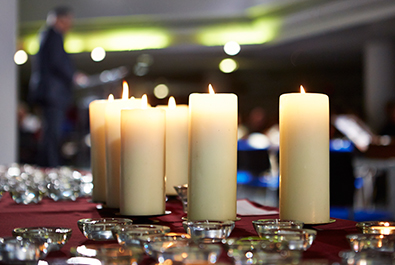 "This means that Holocaust Memorial Day is much more than a simple act of remembrance. It is an annual event of growing relevance."
Also present at the event was the Mayor of Kirklees, Councillor Jim Dodds, who told how, as a serving soldier, a posting in Germany had enabled him to pay visits to both Bergen-Belsen and Auschwitz. After witnessing these sites of the Final Solution it took him up to three weeks to get over the experience, and it haunts him still, said the Mayor.
He cited other attempted genocides, such as Stalin's starvation of millions of Ukrainians in the 1930s, the mass murders in former Yugoslavia and Iraq's gassing of the Kurds. Councillor Dodds also drew parallels with the plight of today's refugees from atrocities in the Middle East and he affirmed that Kirklees Council had pledged to provide a haven for 135 Syrians.
"It's not much, but if we all work together to help those in need, it will make a big difference, " he said.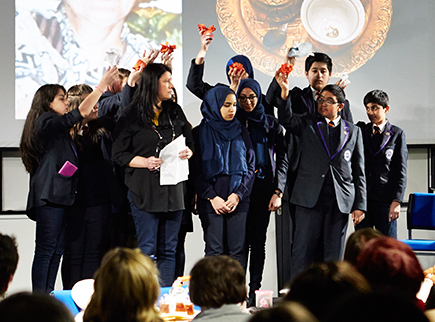 ► Performance by Westborough High School with Bosnian refugee Jasminka (centre left)
Prior to the evening's event, a procession called The Weeping Sisters made its way to the University's campus from Huddersfield bus station. The procession included two large-scale puppets representing a Polish Jewish woman and a Bosnian Muslim woman, who had suffered persecution. The procession also featured a Kurdish belt, with pictures of children attached, in remembrance of the children of Halabja, who escaped after the gas attack in their village by holding on to belts as they walked in complete darkness. The procession was accompanied by atmospheric drumming, written by Helen Curtis especially for the event and performed by Huddersfield band, Slick Stick Sambastic.
The Weeping Sisters puppets were created by professional artists commissioned by 6 million+, with funding from the Kirklees arts project Creative Scene. Community groups in Dewsbury and Batley took part in the project.
Kim Strickson, Project Co-ordinator from the 6 million+ Charitable Trust, said that 2017's Holocaust Memorial Day event was designed as an intimate evening of shared experiences.
"The theme centred around three women and how a group of people in each of their countries wanted to eradicate them simply because of who they were," said Kim. "The fact that they can say 'they could not erase us, we are still here' is truly inspiring. Despite all of their struggles they have carried on and made a new life for themselves."