Top barrister offers hope to people affected by suicide
Tue, 31 Jan 2017 14:44:00 GMT
Crusading lawyer Michael Mansfield QC will be holding a networking event open to anyone affected by suicide – the Silence of Suicide takes place on campus on Thursday 16 March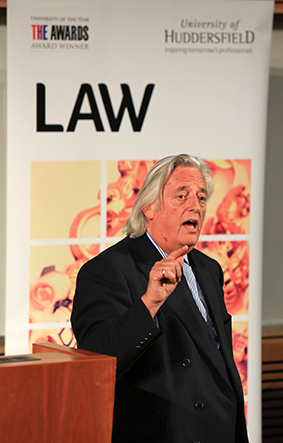 THE University of Huddersfield is working with crusading lawyer Michael Mansfield QC (pictured left) on his campaign to reduce suicide rates by holding stigma-free discussion sessions for people directly affected or who wish to gain insights into an issue that leads to more than 6,000 deaths in the UK every year.
‌Mr Mansfield – noted for his courtroom advocacy in high profile human rights and social justice cases – was devastated when his daughter Anna took her own life in May 2015. His response was to found the organisation SOS – Silence of Suicide, in collaboration with his partner Yvette Greenway.
‌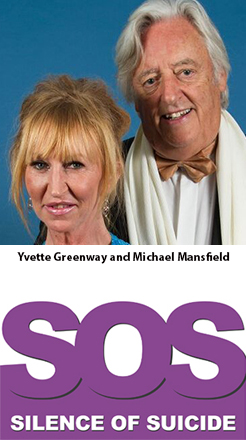 Now, a free SOS networking event is be held at the University of Huddersfield. Taking place on Thursday, 16 March (7-9 pm), it welcomes all-comers, including the general public and students at the University. They will be encouraged to speak freely about suicide, whether they have contemplated or attempted it, or been bereaved when a loved one did take the tragic step.
‌But anybody who is concerned or interested in the topic is welcome to attend, and SOS networking events can provide valuable insights for a broader audience, said Yvette Greenway.
‌"Suicide does not discriminate and we are all, along with our loved ones, friends and colleagues, potential victims of this prolific killer," she explained.
"If you have an interest in mental health generally, perhaps through the work you do, then the SOS meetings provide an ideal platform for you to learn and understand more about the complexities of the subject."
Aiding SOS in organising the networking event is University of Huddersfield senior law lecturer Philip Drake, who is director of the award-winning Legal Advice Clinic. Michael Mansfield's links with the University were established when he delivered its annual Social Justice Lecture in 2015 and in 2016 he returned to receive an Honorary Doctorate, accompanied by Yvette Greenway. It was then that they discussed holding an SOS networking event in Huddersfield.
"SOS is about the silence that surrounds suicide," said Mr Drake. "Not just from the victim's perspective, but from the family's. Silence precedes the suicide and it can follow after the suicide."
Mr Drake said that the establishment of Silence of Suicide was typical of Michael Mansfield. "When something bad has happened, he wants to do something about it and change things."
For more details of the event on Thursday 16 March, and to reserve a free place, go online or for further information, contact Sybilla Daley (01484 471568) or email sybilla.daley@hud.ac.uk.