Holocaust Memorial Day at the University – Thu 26 Jan
Tue, 17 Jan 2017 13:26:00 GMT
The event, entitled They could not erase us, is being held in partnership with 6 million+ Charitable Trust
‌

THE lives of three women and the struggles they faced each having survived a major genocide will be explored at this year's event to commemorate Holocaust Memorial Day – Thursday 26 January to be held in the University of Huddersfield's Quayside Building.

Organised by the 6 million+ Charitable Trust, in partnership with the University of Huddersfield and supported by Kirklees Council, the event entitled They could not erase us is free and open to the public. Booking is advised.
The programme includes a talk by Julia Kinch, the granddaughter of Auschwitz survivor Iby Knill, who was recently awarded an Honorary Doctorate by the University for services to Holocaust commemoration (both pictured left). Julia will talk about her grandmother's experiences of starting her life again after the Holocaust.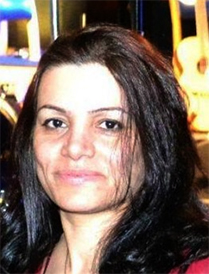 Also speaking is Fereshteh Mozaffari, (pictured right) an Iranian refugee, emerging writer and Salford University student, who will talk about how she has strived to make a new life for herself after leaving her homeland and about her struggles to launch her writing career.
A variety of events will take place throughout the evening in the form of drama, conversations and music. These will include performances by young people from local secondary schools who have responded creatively to the stories from the three genocide survivors: Iby in Hungary, Jasminka in Bosnia and Fatima in Kurdistan.
Kim Strickson, Project Co-ordinator from the 6 million+ Charitable Trust, says this year's event will be an intimate evening of shared experiences where everyone taking part being a member of the local community.
"The theme of the event centres around these three women and how a group of people in each of their countries wanted to eradicate them simply because of who they were," said Kim. "The fact that they can say 'they could not erase us, we are still here' is truly inspiring. Despite all of their struggles they have carried on and made a new life for themselves."
Prior to the main event, a procession called The Weeping Sisters will make its way to the University's campus from Huddersfield's bus station. A visual display, accompanied by music from the respective countries, of two women representing a Polish Jewish woman and a Bosnian Muslim woman, who have suffered persecution. A Kurdish belt, with pictures of children attached to it, will also be in the procession, remembering the children of Halabja who escaped after the gas attack in their village by holding on to belts as they walked in complete darkness.
In addition to the Holocaust Memorial Day event is a photography exhibition by international photojournalist Will Wintercross, called The Exodus: Leaving the land of lost hope. It will be situated in the University's Creative Arts Building from 24 January to 17 February and will show the perilous journey taken by millions in this century, and the desperate measures to which people go to in search of safety and dignity.