Conference salutes 20th anniversary of childhood research centre
Thu, 12 Jan 2017 13:16:00 GMT
Delegates call for "stronger sense of collaboration across boundaries between researchers and practitioners"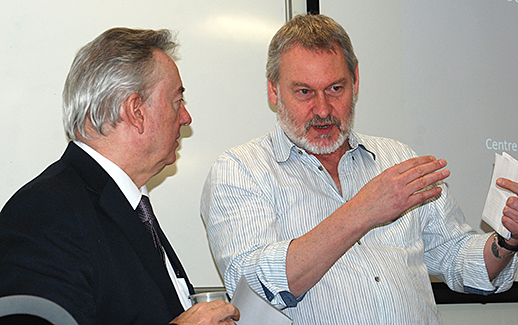 ► Director of the Centre Professor Barry Percy-Smith (right) with the University's Vice-Chancellor, Professor Bob Cryan
HEALTH and social care professionals came to the University of Huddersfield to learn about new research in fields that include domestic violence, child neglect, eating disorders, gay and lesbian adoption, the wellbeing of children with parents in prison, and youth participation and citizenship. They also heard how fruitful partnerships can be forged between university-based researchers and practitioners working for bodies such as health trusts, local authorities and voluntary sector organisations.
The event was the annual conference held by the University of Huddersfield's Centre for Applied Childhood, Youth and Family Research, which is marking its twentieth anniversary. Titled Improving lives: Making a difference with children, youth and family research, the day featured 13 presentations by academic staff and researchers.
Following a welcoming address from the University's Vice-Chancellor, Professor Bob Cryan, the Director of the Centre, Professor Barry Percy-Smith, welcomed delegates to the conference. The keynote speech was from Professor Nigel Parton, whose books include The Politics of Child Protection. He provided critical reflections on applied research with children and families.
‌Throughout the day, conference attendees – some 70 in total – had a choice of panel sessions, which featured University researchers describing recent and ongoing projects.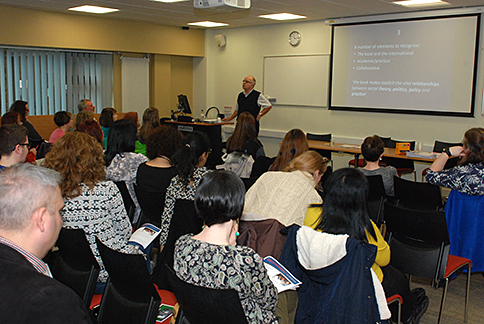 ◄ Opening the conference, keynote speaker Professor Nigel Parton
Brid Featherstone, who is Professor of Social Work, spoke about the relationship between poverty and maltreatment, during a panel session that also featured social work lecturer Dr Kate Wood, whose presentation was titled Conceptualisation of family in gay and lesbian adoption and fostering.
Senior Lecturer in Midwifery Dr Joyce Marshall and Senior Lecturer in Psychology Dr Dawn Leeming dealt with issues surrounding breastfeeding, while Head of Pre-Registration Nursing Dr Jackie Vasey spoke about parental involvement in a child's acute pain care.
Research Fellow Dr Kate Smith's presentation was titled Rethinking stories of migration with children, women and families. Senior Lecturer in Social Work Ben Raikes explored the issues faced by grandmothers caring for children with parents in prison.
David Smith, who is a Research Assistant in the University's School of Art, Design and Architecture, described the development of a computer game designed to empower and promote empathy for children affected by domestic violence. This is an element of the None in Three research project that aims to prevent domestic violence in the Caribbean.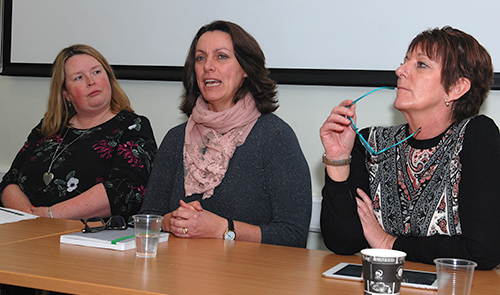 ► Guest panelist (l-r) Belinda Cashman, Dr Suzanne Smith and Diane Curry
Dr Bernard Gallagher, Reader in Social Work, reported on a project that appraised the experiences and view of the users of domestic abuse services in a local authority area, while Senior Lecturer in Social Work Dr Sasha Williams spoke about lay people's views of child neglect.
Dr Sarah Kendal – who is Head of the Division of Mental Health and Learning Disability – described young people's perspectives on eating disorders. Senior Research Fellow Dr Gráinne McMahon gave a presentation on online activism and political participation by young feminists drawing on a European funded project; along with a talk from Centre Director Barry Percy-Smith on supporting the participation of marginalised young people using action research.
The conference concluded with an hour-long session that began with presentations from four health and social care practitioners who have worked on projects with the University of Huddersfield. They were Dr Suzanne Smith, of the Pennine Health Trust; Diane Curry of the organisation Partners of Prisoners (POPS); Belinda Cashman of Kirklees Council Leaving Care team; and Louise Warner, of the Calderdale and Kirklees-based WomenCentre.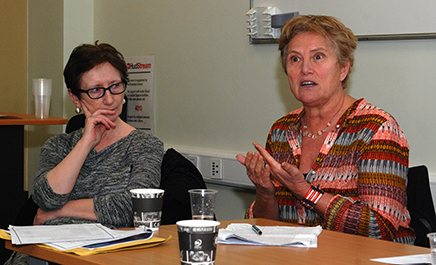 ◄ Guest panelist Louise Warner (right) with the University's Professor Brid Featherstone
There followed a discussion session that Professor Featherstone described as inspiring. "We all agreed that although there are challenges around money, this also forced us to think creatively together about how we can meet needs in challenging times."
A key theme that emerged, added Professor Featherstone, was that it was vital for partnerships between universities and outside organisations to value and build on the good relationships built up over time, giving rise to a stronger sense of collaboration across boundaries between researchers and practitioners.
Commenting on the overall success of the 2017 conference of the Centre for Applied Childhood, Youth and Family Research, Professor Percy-Smith said: "We are very pleased with how the day went and the wide range of participants who attended. There was a positive energy throughout the day evident in the vibrant and productive discussions and feedback during and after the event.
"The success of the day further reinforces the value and importance of the work of the Centre in developing high quality applied research with children, youth and families. We look forward to new and continuing research partnerships in the coming year."