Beerhouses, brothels and human trafficking – Huddersfield 1848-68
Fri, 27 Jan 2017 09:10:00 GMT
Professor David Taylor's book uncovers the reality behind early policing in the Huddersfield in his latest book, Beerhouses, Brothels and Bobbies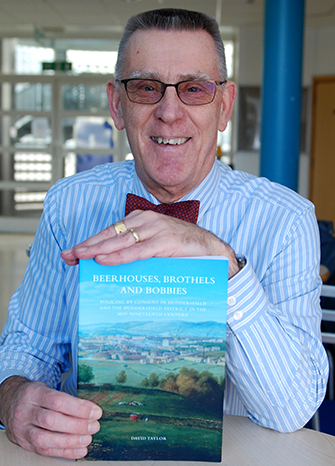 VICE rackets run by crime bosses behind the façade of legitimate business … maverick police officers who nab villains by the score but whose boozy private lives lead to their undoing … dangerous streets where gangs rule by fear where it takes real courage for beat bobbies to go on patrol … riots flaring up when locals react furiously to over-zealous policing!
There are many themes in the latest book by Professor David Taylor (pictured right) that are familiar from contemporary fact and fiction. But he is dealing with the dawn of modern policing, 170 years ago, when the growing town of Huddersfield and its surrounding district – known as Upper Agbrigg – established their first fully-fledged forces.
These forces would be confronted by a raft of political, organisational and personnel problems – plus persistent crime that included shocking cases of human trafficking in which young girls from economically-depressed Lancashire were lured to the West Riding to work as prostitutes in brothels attached to seedy drinking dens.
The author – who is Emeritus Professor of History at the University of Huddersfield – has also uncovered details of a ferocious but now forgotten 1862 anti-police riot in the township of Honley.
Beerhouses, Brothels and Bobbies is the latest in a series of books authored and co-authored by Professor Taylor in which he describes and analyses the evolution of policing in 19th and 20th century Britain. This time he has moved away from the larger urban areas that have dominated academic research into the subject.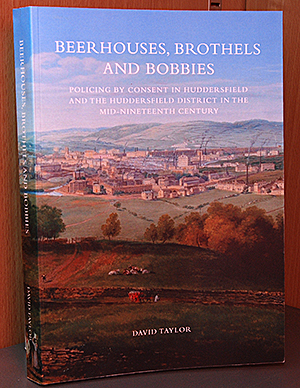 "Most of it has focussed on London, Manchester, Sheffield, Leeds and so on, very little has been done on medium-sized towns, which were far more common," said Professor Taylor. "Also, given the importance of the West Riding in terms of the socio-economic and political development of the country, it is amazing that virtually nothing has been written about the area."
In Beerhouses, Brothels and Bobbies,heexamines the development of policing in Huddersfield from 1848 – which saw the passing of a Huddersfield Improvement Act and the town was administered by Improvement Commissioners – to 1868, when the town was incorporated as a municipal borough. Professor Taylor also describes policing in the rural areas surrounding the town, where the West Riding Constabulary held sway.
A major theme of the book is the concept of "policing by consent", a phrase that can be traced back to at least the 1830s. In Honley in 1862, that consent was stretched to breaking point after locals lost patience with the over-officiousness of their bobby, PC Antrobus. In the course of a serious riot, he was burned in effigy and run out of town. The episode and its aftermath are described in detail by Professor Taylor, who confesses that he is amazed the incident has dropped out of popular memory.
‌In urban Huddersfield itself, Professor Taylor has uncovered a large amount of information about the often-chequered careers of the town's first police officers and the pockets of crime and vice that they had to contend with.
‌For example, Superintendent John Thomas was a true crimebuster, but his vigorous thief-taking approach did not always endear him to the Watch Committee, and his own drinking and gambling – referred to as "venial peccadilloes" – led to his dismissal.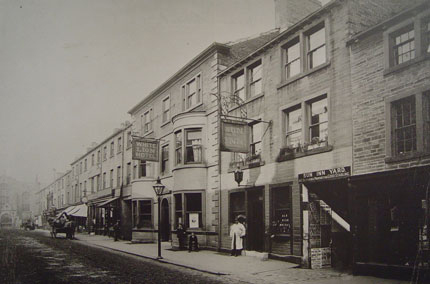 The book also describes the career of villains such as 'Slasher' Wilson and John Sutcliffe, the "King of Castlegate", the most notorious street in old Huddersfield, with beerhouses and pubs notorious for prostitution and "barracks" for girls from Lancashire who were the victims of what would now be known as human trafficking. Although police did clamp down, the persistence of the problem led to Huddersfield gaining a reputation as "the brothel of the West Riding".
For his latest work on the origins of policing, Professor Taylor found that a local perspective allowed him to bring out tensions and contradictions that can be swept away in more general histories. But the themes he uncovered have wide relevance and are still significant, he added.
"Many of the questions that arose then are equally important now – such how the police respond to juvenile delinquency, how they deal with minority groups and at what point does dissatisfaction with the police turn into opposition on the street."
Beerhouses, Brothels and Bobbies, by Professor David Taylor, is published by the University of Huddersfield Press. It is available as a paperback or as an open access online edition.