Sir Patrick Stewart returns to the University for a two-day visit
Thu, 06 Apr 2017 11:39:00 BST
Sir Patrick viewed the Institute of Railway Research and Future Metrology Hub, lunched with international students and offered advice to drama students in an acting masterclass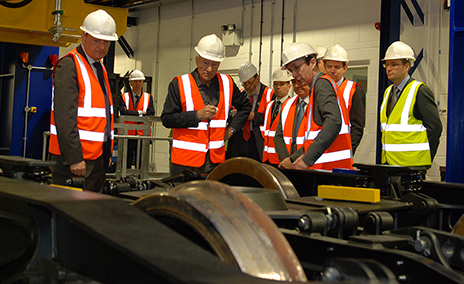 UNIVERSITY of Huddersfield Emeritus Chancellor Sir Patrick Stewart is passionate about cars, including the potential of hybrid vehicles and electric power. So the famous actor was fascinated when he talked to engineering students about the ways they are harnessing hybrid technology.
On his latest visit to the University, Sir Patrick met film and drama students – discussing his approach to acting and roles such as Professor Xavier in the current X-Men film Logan. He also conducted a revelatory acting masterclass that enabled student actors and directors to add new layers of depth to their stage work.
But he was also shown some of the latest research being carried out by scientists and technologists, with his first port of call being the Institute of Railway Research (pictured left).
Its director, Professor Simon Iwnicki, described the work of the IRR and its facilities, and introduced a team of Master's students who are working on Hudrail, a miniature loco that will be entered into this year's Railway Challenge, organised by the Institution of Mechanical Engineers.
After he was shown how its petrol engine could be used to generate and store electricity that could then be used to power the vehicle, Sir Patrick compared this to the hybrid cars he drives and told how he has mastered the skill of driving his powerful Porsche around Los Angeles without using a drop of petrol.
"As a Yorkshireman, that appeals to me!" he said.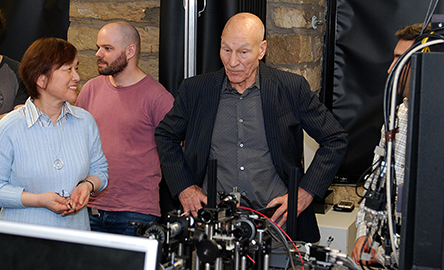 Describing the development of the Hudrail vehicle were Master's students Daniel Emsley, Jordan Atha, Kieran Parkin and Matt McCarthy.
‌Sir Patrick also visited the University's Future Metrology Hub, a £30 million research centre that will help transform UK manufacturing. He met its director Professor Xiangqian Jiang and Senior Lecturer Dr Haydn Martin, plus the Hub's multi-disciplinary, multi-national team of researchers who are harnessing new developments in metrology and miniaturisation to transform the future of UK manufacturing (pictured right).
Professor Liam Blunt showed Sir Patrick how metrology and X-ray analysis were aiding the development of new, patient-specific medical devices, and could also be used for purposes such as investigating and verifying artifacts including antique weaponry.
Sir Patrick moved on to his own area of expertise when he held a session with a large group of students taking film studies modules. He was introduced by Alistair Billam, who is Subject Area Leader for Media and Journalism, and began by describing his background, the beginnings of his acting career and how he became Chancellor of the University of Huddersfield.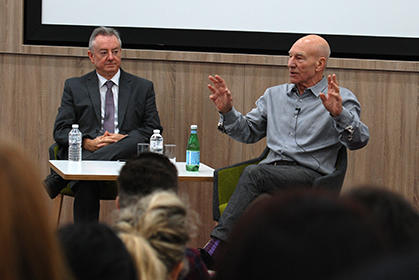 ◄Sir Patrick Stewart (right) with the University's Vice-Chancellor, Professor Bob Cryan, in a Q&A session with students
Students were eager to ask questions on topics that included the process of selecting and rejecting film roles, the most challenging parts he had played, changes that he had noted in the film industry and technical issues such as his approach to voice-acting for animated films.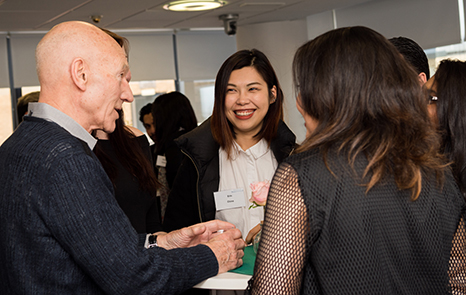 On day two of his visit to the University, Sir Patrick met Professor Adele Jones and her multi-disciplinary team of colleagues whose EU funded None-in-Three project on domestic abuse in the Caribbean is now to broaden its remit to include the UK.
The international element continued when Sir Patrick enjoyed lunch with some of the presidents of the of the University's International Societies (pictured right). Of its 22,000 students, 3,500 make up the University's international student community with students heading to Huddersfield from over 120 countries. The various international societies organise a number of events for their members with the highlight being the University's International Week of food, culture and sport events.
The actor's schedule also included a question-and-answer session with a huge student audience, who sought his views on film, theatre and politics – plus his move into comedy acting, triggered by a cameo in the Ricky Gervaise series Extras.
‌Sir Patrick is also a Visiting Professor of Performing Arts at the University, and the centrepiece of his visit was a masterclass held in the drama building that now bears his name. Three groups of acting students performed excerpts from plays they will be presenting in May as part of the Second Year Drama Festival.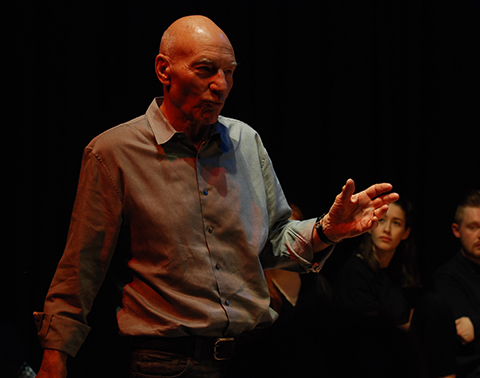 Seated alongside the student directors – Natasha Allen, Samantha Leach and Kerry Chippendale – Sir Patrick, who had studied the scripts beforehand, asked the actors to try subtly different techniques and approaches to their parts, resulting in dramatic differences in interpretation that were immediately apparent.
He stressed how important it is for actors to be able to make changes and to respond to direction. "We must jump into the deep end of a new idea and inhabit it completely".
He also imparted some golden rules, such as a prohibition of what he termed "demonstration" when actors flagged up their feeling or thought too hard about their lines. "Never think about what you are going to say, but think about your feelings and experiences." He also stressed the importance of experimentation during rehearsal.
"I wish I could have worked with you for six hours! What I have seen is really good and very encouraging," he said.
The student actors who performed for Sir Patrick were Dominic Andre, Jacqueline Columbine, Freya Hemsley, Francesca Raine, Tony Slater, Jamie Smith, Jess Thompson, Jessica Truan, Kelsey Weavill and Mollie Wood.