Hudds joins the Times Higher's world top 200 "young universities"
Thu, 06 Apr 2017 11:30:00 BST
Internationalisation is cited as a key reason for success in the newly-released 2017 Times Higher Education Young University Rankings
A LEADING Higher Education publication has earmarked the University of Huddersfield as one of the top 200 "young universities" in the world.

It joins 26 other UK institutions in the table, meaning that Britain has more excellent newer universities than any other country. Their internationalisation is cited as a key reason for success in the newly-released 2017 Times Higher Education Young University Rankings.
Huddersfield currently has some 3,500 overseas students – from 123 countries – out of a total student body of 22,000.
The rankings cover global universities that were founded less than 50 years ago. Although Huddersfield is directly descended from an institution formed in 1841, it adopted formal university status in 1992.
In compiling the rankings, Times Higher's research team appraised factors such as student-staff ratio and numbers of international students.
The publication's editorial on the rankings adds that: "When compared with the traditional and more established higher education institutions, these young universities are characterised by their experimental and flexible nature, their interdisciplinarity, their openness to new ideas and their willingness to constantly reinvent themselves."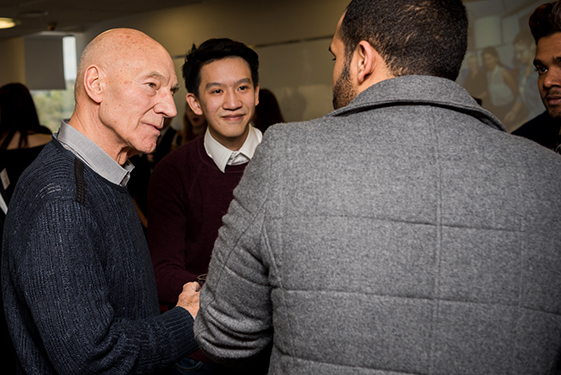 ◄The University's Emeritus Chancellor, Sir Patrick Stewart, is pictured at a lunch for international students
At the University of Huddersfield, Deputy Vice-Chancellor Professor Tim Thornton is delighted that it has made its debut in the worldwide Young University Rankings.
"One of our goals is to establish ourselves as a truly international institution. Therefore, we are proud that the Times Higher – perhaps the most prestigious publication in its field – has ranked us inside the top 200 young universities in the entire world.
"We are delighted, but not too surprised, because we have laid so much emphasis on teaching excellence. In fact, we are the UK's top university for staff teaching qualifications. Also, our campus and its facilities just get better all the time, which means the student experience is constantly improving too," continued Professor Thornton.
"The term 'young' university is not one that we use a great deal ourselves," he added. "After all, we are directly descended from an institution founded in 1841. You could say that makes us a relatively old university!
"But, yes, we adopted full university status in the early 1990s and we are definitely young in outlook, especially with our student-focussed emphasis on teaching excellence and on key factors such as learning support and rapid feedback on course work."
The 2017 Times Higher Education Young University Rankings can be seen in full online.