Duke of York's Inspiring Digital Enterprise Awards launched
Tue, 25 Apr 2017 09:58:00 BST
Inspiring Digital Enterprise Awards (iDEA) – free and open to all ages – are described as "bite-sized challenges that help teach digital and enterprise skills"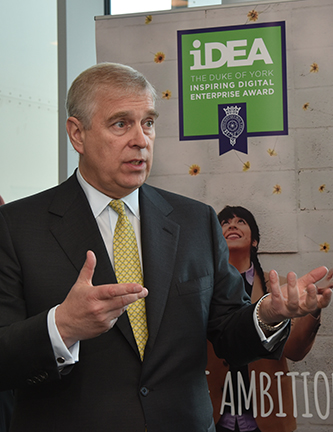 THE Duke of York, KG, (pictured left) has presided over the creation of a new awards scheme that aims to burnish the digital skills and employability of young people in the UK. And when he launched it at the University of Huddersfield – where he is Chancellor – he admitted that he modelled its format on the famous outward-bound scheme developed by his father, HRH The Duke of Edinburgh.
The new project is named titled Inspiring Digital Enterprise Awards (iDEA). It is free, carried out online and its bronze badge has already been completed by pioneering pupils, including an enthusiastic group at a West Yorkshire school who attended the regional launch event. They and their teacher also gave The Duke valuable feedback, which His Royal Highness said was vital for iDEA to develop.
"We are making no apology for borrowing my father's intellectual property because it is a tool that works," he told the audience in the University's brand new Oastler Building. "We can deliver a similar sort of activity stream but in a digital form, so we are going to have bronze, silver and gold badges."
‌The badges are described as "bite-sized challenges that help teach digital and enterprise skills" and once enough have been passed to acquire a total of 250 points, a Bronze Award is earned. Over the next couple of years, the range of badges will grow and more challenging silver and gold awards will be introduced.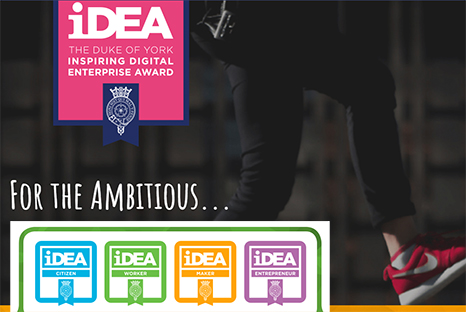 Rupert Ward, who is Professor of Learning Innovation and Associate Dean (International) within the University of Huddersfield's School of Computing and Engineering, was Project Lead for iDEA. He served for eighteen months as Special Adviser to The Duke of York and was based at Buckingham Palace.
At the University of Huddersfield event, The Duke traced the origin of iDEA to the financial crisis of 2008, when, as a trade ambassador for the UK, he noticed a sharp decline in global economic activity.
"It was clear that if we were going to continue to be a prosperous nation we were going to have to invest in our skills, education and young people," he said, adding that most jobs in today's workplace had a digital element.
"Much of what I have learned about computer learning is that young people do it better collaboratively than sat in a classroom and being taught about it. So we came up with the idea of giving badges for anybody – young people particularly – for different skills in the digital world."
He told how iDEA is designed as a self-help scheme for participants, but supervision and encouragement by schools and teachers were also valuable.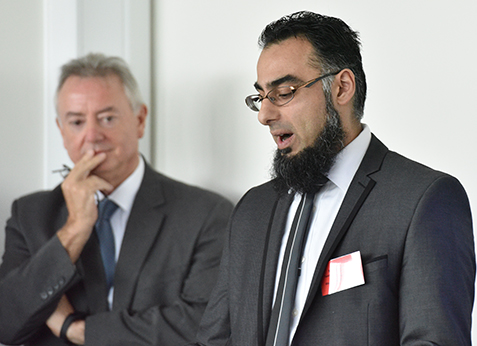 ◄Pictured with the University's Vice-Chancellor, Professor Bob Cryan, is Westborough's Team Leader for Enterprise and Ethics, Lukman Patel
One school that has embraced iDEA is Westborough High School in Dewsbury. Its Team Leader for Enterprise and Ethics, Lukman Patel, spoke at the launch event and described the introduction of the scheme as a massive success.
Teachers had found that the bite-sized modules were very flexible and could be used for classroom session and as homework tasks, but iDEA had also been a great success as lunchtime and after-school activities.
The launch event was attended by representatives of a wide of regional schools, and Mr Patel urged them to embrace iDEA.
"I feel it will give young people in our region a competitive advantage in the labour market and turn Kirklees and Yorkshire into the digital hub of the nation," he added. His pupils Dawud Sakha, Abdullah Asif and Aasim Hussain were presented by The Duke with specially-created certificates marking their pioneering success in earning iDEA bronze awards.
The Vice-Chancellor of the University of Huddersfield, Professor Bob Cryan, opened the launch event and he said he hoped that West Yorkshire would drive the iDEA agenda. He also announced plans to include a bronze award event as an element of the University's graduation ceremonies in July.
Professor Cryan revealed that he had taken and passed the bronze badge and he urged others to follow his example.
"There is no doubt in my mind that iDEA is a great idea!" he said. "It's fun, it's stimulating and it will play a part in developing the digital skills that this country needs if it is to continue to prosper."