Chancellor opens the new £28 million Oastler Building
Tue, 25 Apr 2017 14:44:00 BST
At the opening, the University's Chancellor, HRH The Duke of York, met various firms that had worked on the project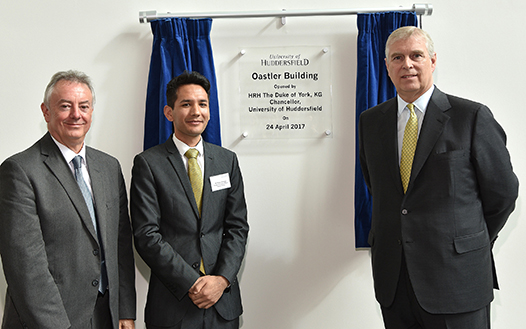 ◄HRH The Duke of York unveils the plaque with the University's Vice-Chancellor, Professor Bob Cryan, and Dilara Changis from the Students' Union
‌WHEN His Royal Highness The Duke of York, KG, opened the University of Huddersfield's new £28 million Oastler Building he spoke to a succession of the firms and designers who worked on the structure and declared that he found it fascinating to learn about the "inter-connectivity" between specialists involved in such an ambitious project.
In his speech, the Duke also praised the "brilliant" University of Huddersfield team behind the creation of the building, and said he was impressed by the fact that it was working so well on Day One.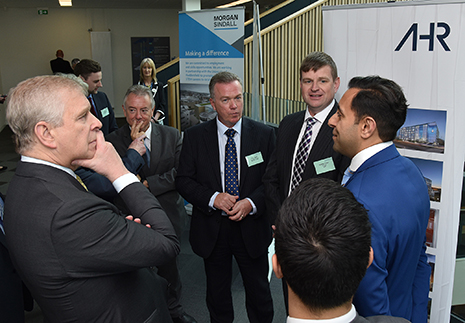 Prior to conducting the opening ceremony, His Royal Highness – who is the University's Chancellor – toured special displays mounted by firms that had played a key role in the development of the Oastler Building, (pictured right) which will provide a new base for study of the law and the humanities and also new, state-of-the art conference and meeting facilities.
‌All of the displays were attended by senior figures at the various firms, plus a large number of the apprentices and trainees who worked on the project. All of the companies are based locally or regionally.
In his introductory speech at the opening ceremony, the Vice-Chancellor, Professor Bob Cryan, said that the £28 million spent on the Oastler Building was not only an investment in the University and its students, but an investment in the town and region too, because it was possible to use local suppliers for most of the key components and materials.
‌‌Companies represented at the ceremony included the architects AHR, now a global practice, but which originated in Huddersfield in the 1800s.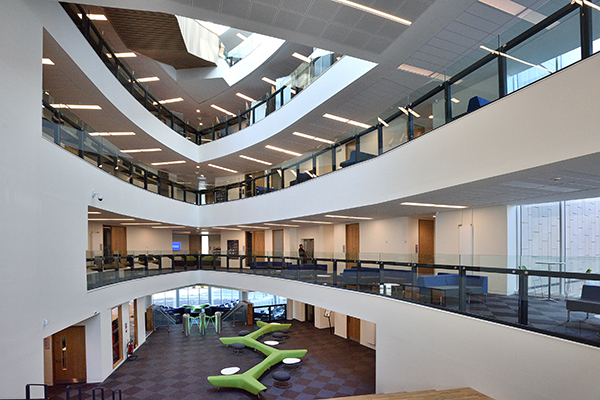 "The design AHR produced is a brilliant, but complex and innovative," said Professor Cryan. "The site itself presented problems due to the limited space and access. These factors add greatly to the achievement of our main contractor, Morgan Sindall, in delivering this fine building with the minimal disruption to the campus and the town."
‌Other firms represented at the ceremony included Johnson's Wellfield Quarries; Dual Seal Glass; HW Architectural; Roche Audio Visual; specialist furnisher Gresham's; and Elland Steel Structures in Halifax.
On his tour, the Duke of York probed the roles of the different companies and in his speech said that he was fascinated by the teamwork that was necessary for the completion of the project.
During his introduction, Professor Cryan said: "We already have one of the finest university campuses and it is continually getting better. And for this I must reserve special thanks to Colin Blair and his outstanding Estates and Facilities team. They are undoubtedly one of the best in the sector."
He added that the Oastler Building – in its prominent location – was already a local icon.
"We have bestowed on Huddersfield a 21st century structure that can stand alongside the great 19th century buildings that expressed the civic pride felt by our Victorian forebears."