U.S. pharmacy exchange goes from strength to strength
Mon, 21 Nov 2016 14:15:00 GMT
Huddersfield welcomes four students on a reciprocal visit programme from Wilkes University's Nesbitt School of Pharmacy in Pennsylvania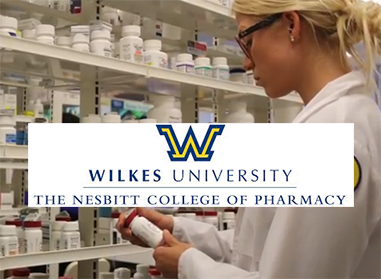 THERE are countless benefits to taking part in a multi-cultural exchange programme. Now, four pharmacy students from across the Atlantic are broadening their horizons thanks to a well-established programme between the University of Huddersfield's Pharmacy Department and the Nesbitt School of Pharmacy, Wilkes University in Pennsylvania, USA.
The scheme was the brainchild of the University of Huddersfield's Principal Enterprise Fellow in Pharmacy Dr Mahendra Patel after realising the benefit to students in both the USA and the UK. The programme benefits both sets of students in terms of broadening their knowledge of different dimensions of the healthcare and pharmacy systems of the two countries. It has now been running for six years with a healthy competition for places.
This year's U.S. visitors were Hillary Harris, Bradley Moore, Paige Pientka and Jonathan Sytko. The four have just completed an intensive three-week visit to the UK and will graduate from Wilkes University from their Doctor of Pharmacy degree in May next year.
Their packed programme comprised numerous visits to a variety of practice settings operating within the NHS, meeting and engaging with UK academics at a university conference and also with healthcare practitioners from primary, secondary and community backgrounds.
Over the summer, four Huddersfield MPharm students, Kwan Ming Cho, Jade Pickup, Rimanee Kaur and Beth Astbury, spent a month with their U.S. counterparts at their university in Pennsylvania. Kwan said the trip had opened the group's eyes to how complicated the medical system would be without the umbrella of the NHS.
‌Dr Mahendra Patel is pleased with the continued success of the exchange trips: "In my opinion, I have found our students, who visited Wilkes, all returning with more focus, greater maturity and higher levels of confidence. Importantly, they have also developed a wider depth of knowledge of pharmacy and a clear appreciation of the role of the pharmacist and how it can be complemented and enhanced.

"The value of this programme was highlighted through one of the Huddersfield student's application for a Pharmacy Pre-Registration post at Europe's biggest and busiest children's hospital. It was very uplifting to learn that it was commended as one of the best they had ever received – significantly on the back of their USA experience.
"This was also the case for the American students applying for posts after graduation. One of them has secured a highly-prestigious post with Geisinger Health Plan, one of the largest health insurance providers in America," added Dr Patel.