Techno legend Richie Hawtin delivers masterclass at University
Thu, 24 Nov 2016 12:41:00 GMT
Richie Hawtin received an Honorary Doctorate from the University of Huddersfield in 2015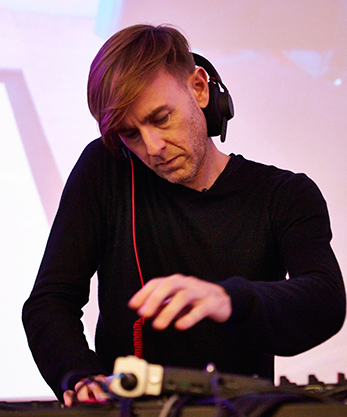 ONE of the world's leading innovators in electronic music and DJ performance gave a masterclass to University of Huddersfield students, demonstrating a new and pioneering mixing desk designed so that he can feel it and play it like a musical instrument.
Richie Hawtin – born in England, raised in Canada and now based in Berlin – has a peerless reputation in his field. Dubbed "one of the electronic dance world's intellectual forces" he has been awarded an Honorary Doctorate by the University of Huddersfield, which is a leading centre for research and teaching in electronic music and music technology.
On his latest visit to Huddersfield, Richie Hawtin gave a talk and description of his latest technology leading to a performance that demonstrated the potential of the new equipment. Then he fielded a range of audience questions, before moving on to meet groups of students to discuss their work.
At the heart of his masterclass was his newly-developed Model One Mixer, which he has branded as "Play Differently". He stressed the importance of innovation and individuality.
"We can't push forward if everybody is doing the same thing. That's not why I got involved in electronic music," he said. When he started, as an admirer of DJs on the Detroit scene, over the border from his Ontario home, he wanted to emulate his heroes. "But at some point you realise that the way to be like them is to be as much yourself as possible, so you become individual and unique."
Richie Hawtin's father is a robot technician and an inveterate "tinkerer" with electronic devices, to try and improve them. This – plus a liking for music such as Kraftwerk and Pink Floyd – was a major influence. Father and son worked together to create first hybrid DJ multi-mixer.
But Richie told his audience how, after feeling frustration using the same mixing equipment for 15 years, he decided to develop something new that would give him more creative freedom.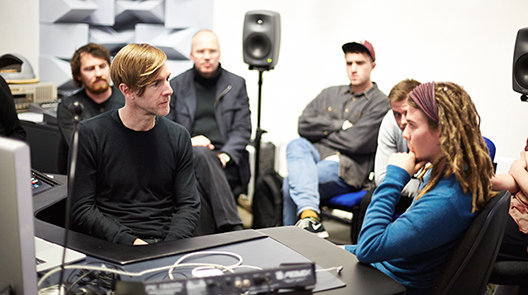 ◄ Richie Hawtin working with the University's students
The "Play Differently" desk is the result, and Richie Hawtin told his audience about some of its distinctive features – such as sweepable EQ – that enabled him to emulate studio quality sound during a live DJ performance.
Also, the desk is 100 per cent analogue – giving a "beautiful, pristine and warm" sound – while incorporating the latest design and technology. It has dials and knobs designed to have a distinctive feel.
"We wanted to think about the mixer as an instrument, and by having different touch and ergonomics so you can use it with your eyes closed, just as guitarists close their eyes when jamming. They don't need to look."
Richie Hawtin also stressed the importance of dynamics – louds and softs – in electronic music performance, although they are a factor often overlooked.
His lecture-demo at the University of Huddersfield was introduced by Professor Michael Clarke – who is Dean of Music, Humanities and Media – and by Dr Rupert Till, who is Senior Lecturer in Music Technology. After the session, Richie – who said how honoured he had been to receive his University of Huddersfield award – discussed future collaborations with students.
Richie Hawtin was an influential part of Detroit techno's second wave of artists in the early 1990s and a leading exponent of techno since the mid-1990s. He is known for his groundbreaking work with technology, his music productions under the alias Plastikman and for his ENTER. events in Ibiza and around the world. As a DJ, he headlines clubs and festivals around the world and has changed the direction of the art form via his innovations with technology and performance. In the guise of Plastikman, he has produced more than six albums and cross-cultural achievements also include a spectacular collaboration with Anish Kapoor's art structure for Monumenta at the Grand Palais in Paris, and at the Centre Pompidou, Richie re-scored a silent movie from the 1920s to much critical acclaim.