Happy Valley writer takes centre stage at J.B. Priestley Lecture
Fri, 11 Nov 2016 10:31:00 GMT
Writer and director Sally Wainwright spoke openly about her work in conversation with the University's leader of Creative Writing Dr Michael Stewart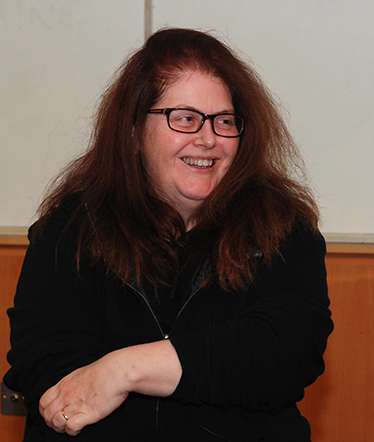 "THERE is no drama in happiness," according to the leading television scriptwriter and director Sally Wainwright when she spoke to a large audience at the University of Huddersfield.
The author of the ironically-titled crime story Happy Valley plus bittersweet serials, such as Last Tango in Halifax and searing sagas such as Unforgiven was explaining the fact that dysfunctional families frequently feature in her storylines.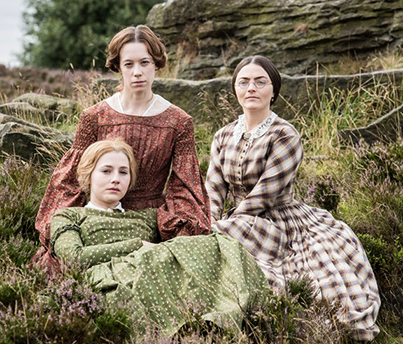 ► To Walk Invisible actresses Charlie Murphy (Anne), Chloe Pirrie (Emily) and Finn Adkins (Charlotte)
In conversation with the University's Dr Michael Stewart, the multi-BAFTA award-winner agreed that the subject of her next TV film, To Walk Invisible, about the Brontës of Haworth, were "the ultimate dysfunctional family". The audience was given a preview of a scene in which an emotionally charged Emily Brontë is seen physically assaulting her sister Charlotte after an argument over poetry and privacy. It was based on research into the intense relationship between the literary sisters.
The film is due to be screened by the BBC at Christmas, and Sally Wainwright both scripted and directed it. She explained how she had selected unknown actors for the lead roles and ensured that they bore a physical resemblance to the Brontës.
"I really wanted it be like stepping back in time, and not feel like a sanitised, BBC dressing-up box production where they have all got white teeth and you wouldn't be surprised if they got mobile phones out!" said Ms Wainwright, who also ensured that the Brontë actors spoke in Yorkshire accents instead of the usual Received Pronunciation.
The event at which Sally Wainwright spoke was the University of Huddersfield's second annual J.B. Priestley Lecture. The format was an interview conducted by Dr Stewart, an author who is also course leader in creative writing. He screened a series of scenes from Wainwright dramas, including Happy Valley, Unforgiven and Last Tango in Halifax.
Dr Stewart also discussed the series At Home with the Braithwaites, a landmark in Ms Wainwright's career, which had begun with scripts for The Archers and then Coronation Street – "the greatest apprenticeship", as she described it.
Dr Stewart explored the ways in which the damaged back stories of characters play a role in Sally Wainwright's dramas, first apparent with the character of Ruth, freed from jail after 15 years in Unforgiven.
"I realised that there is a great strength in your narrative if it's not just about now or the future, but it goes back a long way as well," said Ms Wainwright. "Everything that Ruth does in the present is hugely informed by this terrible incident in her past.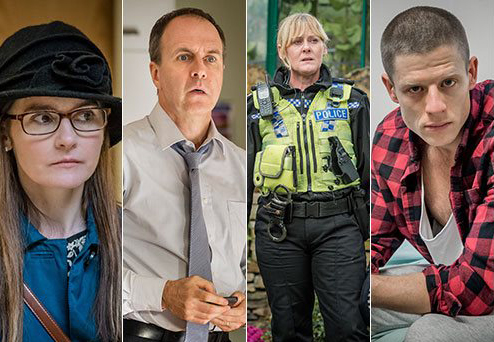 ► Happy Valley cast series 2
"When I came to write Last Tango, everything is informed by something that happened 60 years ago".
Another of the themes explored during the conversation was the panoply of strong female characters in Wainwright-scripted dramas.
"I am lucky – and rare – in that I consciously want to write about women. The things that get commissioned are the things you are passionate about and I love writing about women. I think they are very heroic. But most people want to write about men. Even women want to write about men!
"There are men I love writing for and I hope that my male characters are as good as my female ones. But women are more emotionally articulate."
Dr Stewart also analysed the importance of 'place' in Sally Wainwright dramas, many of which – including Happy Valley and Last Tango – are explicitly located in her home area of Halifax and the Calder Valley.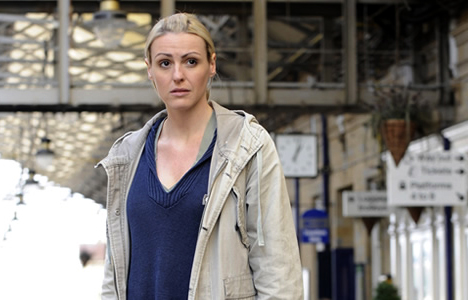 ◄ Suranne Jones in Unforgiven
"Being real is very important to me, however dark it gets. It is like not being able to write a character until I know what their name is. The more you can ground your drama in a real place the more real it feels to me as a writer," said Ms Wainwright.
"For me the Calder Valley is very real because it is where I grew up. The accent is very real because it's my accent. And the more I can make the audience believe that this is real, that this is actually happening, the better it is."
Her education and career had taken her to York, then London and Oxford, but Sally Wainwright said that the "the older I get the more I want to get back here. All my work it set up here and I feel the pull of it".
The conversation also covered topics such as the importance of a good musical soundtrack and her conviction that TV drama is now superior to film.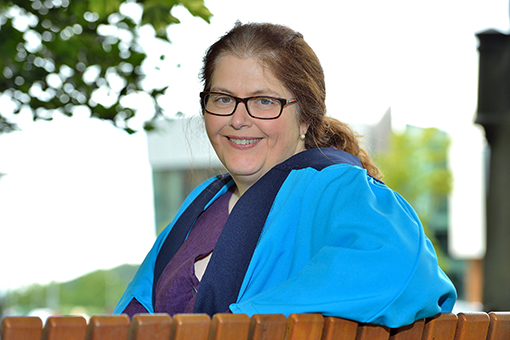 ► Earlier in 2016, Sally Wainwright was awarded an honorary doctorate of the University of Huddersfield
"When I started writing, TV was very much the poor relation to film. But that has now changed," said Ms Wainwright, citing bigger budget co-productions and the eagerness of star actors to appear on the small screen.
The 2016 J.B. Priestley Lecture was introduced by the Vice-Chancellor of the University of Huddersfield, Professor Bob Cryan.
"I am not surprised that so many of you were eager to acquire tickets, because this is an opportunity to hear from a writer whose work has an exceptionally large following in the UK and overseas," he said.
"In fact, Sally Wainwright has arrived at a point where her name alone – when attached to a television project – is sufficient to stimulate enormous interest and anticipation. When they do tune in, the viewers are never disappointed."
Earlier in 2016, Sally Wainwright was awarded an honorary doctorate of the University of Huddersfield.