Bimbling about – political insight into what is and what could be
Thu, 12 May 2016 09:54:00 BST
Dr Alex Bridger argues that psychogeography – basically wandering around or bimbling – provides important insights into the nature of society and the urban environment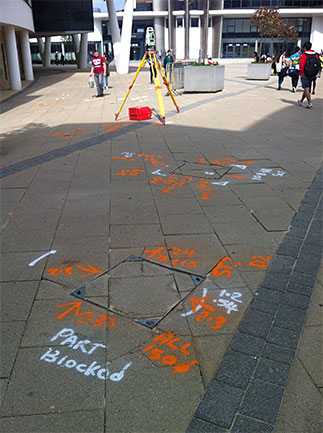 ◄ A photograph taken on a not too recent psychogeographical walk on the University's campus, which features cartographer's writing strange codes on the campus floor.
UNIVERSITY of Huddersfield psychology lecturer Dr Alex Bridger likes to "bimble" around towns and cities, and sometimes he lets the throw of a dice decide which direction to take or which street to investigate. It is an enjoyable activity, but it also provides important insights into the nature of society and the urban environment.
And it adds to his expertise in "psychogeography" – a subject on which he has authored a number of articles and is preparing a new book.
"Psychogeography is basically wandering around, or bimbling – which means walking at a leisurely pace – and not going straight from A to B but exploring different environments," said Dr Bridger.
The exercise and therapeutic value is one reason to bimble, but there is more to it.
"On a political level, I think it is important to use a practice of walking through space to understand how things are and to use that to envision what things could be."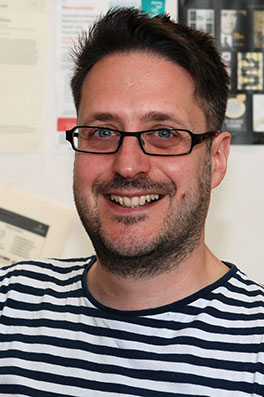 Dr Bridger's latest article amplifies the theme, when he comments that:
The core questions and aims of a psychogeographical approach in psychology could include: how environments make us feel, what we need to do in order to change environments, what environments of the future could look like and finally, what psychogeographical research can change. There cannot be clear and fixed answers to these aims and questions: the central argument here is that revolutionary social change is not something that can really be designed and planned out. Instead, it is something that is realised by individuals and groups.
The new article is titled Walking the radical talk and it appears in The Psychologist, which is the official monthly publication of The British Psychological Society. Aimed at students and academics in psychology as well as general readership, the article describes the origins of psychogeography in a group of radical artists, activists and intellectuals in post-War France known as the "situationists", whose strategies included urban walking investigations which they referred to as dérives – drifts in English.
On Dr Bridger's own explorations, he takes notes and photographs and often follows up his findings with archival research. He sees himself as part of a tradition that includes social observers such Frederick Engels in the mid-1800s, who analysed the urban development of Manchester and other cities in England, and it is in Manchester that Dr Bridger (pictured right) has carried out much of his psychogeography, mapping out and documenting its regeneration after the IRA bomb in 1996.
"I used psychogeography as a technique to document and understand themes surrounding consumerism, surveillance, privacy, public and private spaces," he said.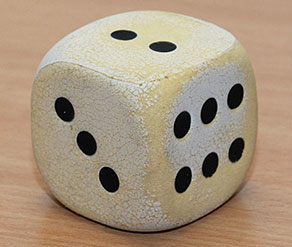 Dr Bridger has also developed the practice of "dice-walking" as a random way to determine his wanderings. Inspired by a novel named The Dice Man by Luke Rhinehart – in which the central character leaves everyday decisions in life to chance – he assigns a number to certain moves, such as walking straight ahead or taking the third left, and rolls a dice accordingly.
"It is just a way to disrupt usual routines or patterns," said Dr Bridger, who has carried out dice walks in Huddersfield and has founded the Huddersfield Psychogeography Network as a "space where artists, academics, activists and anyone else that is interested can get involved in dérives around the Huddersfield area".
Dr Bridger's teaching at the University's School of Human and Health Sciences includes the subjects of social psychology and qualitative research methods and he has intrigued his students with lectures and workshops about psychogeography. Future projects include a commissioned book titled Psychogeography and Psychology.