Famous Univ of British Columbia Laptop Orchestra comes to town
Mon, 07 Mar 2016 10:30:00 GMT
‌Dr Ian Gibson is working with UBC on the development of new motion and gesture tracking software that is revolutionising soundscapes with visual elements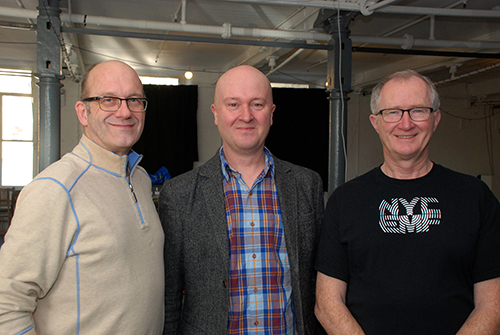 ► Dr Ian Gibson (centre) welcomes Professor Robert Pritchard (left) and Professor Keith Hamel (right)
ONE of the world's leading university-based computer music ensembles relocated from Vancouver to Huddersfield for a week of performances and research collaboration, including the continuing development of new software that allows compositions to be shaped by the movement and gestures of performers.
The University of British Columbia (UBC) Laptop Orchestra is a long-established group that programs computers and mobile devices, often in tandem with conventional instruments and dancers, to create exciting new soundscapes that frequently have a visual element.
‌The University of Huddersfield is also a major centre for computer music research, and senior lecturer in music technology Dr Ian Gibson is a Visiting Professor at UBC, where he contributes to the development of motion and gesture tracking software, known as MAX. As a result of this link, the Laptop Orchestra was invited by the University's Adaptive Music Technology Research Group – which Dr Gibson heads – to visit Huddersfield.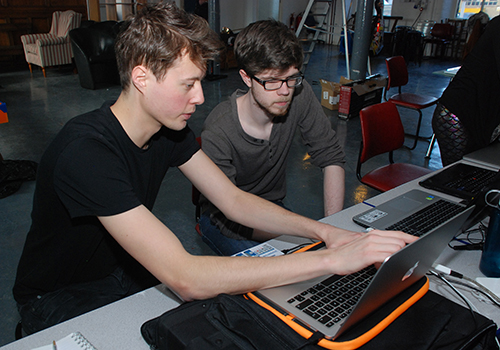 ◄ Huddersfield students Zeger de Vos (left) and Tom Johnson
‌The Canadian party included 24 student composers, software engineers and performers and was led by Professors Robert Pritchard and Keith Hamel, who are leading figures in the field of electro-acoustic and computer music.
Dr Gibson has been associated with UBC for the past five years and pays regular research visits to the Canadian university. He was delighted that the Laptop Orchestra and the two professors made the journey to Huddersfield, where they took part in the 2016 edition of Electric Spring, the University's long-established, five-day festival of cutting-edge music.
The Laptop Orchestra's contribution to Electric Spring included the use of motion tracking, which allows dancers and composers to introduce spontaneous mutations to a performance.
‌"For example, you might have a repeated melody and if a dancer moves to the right it gets louder, or moves to the left and it gets softer. If the dancer moves up, the melody might start to introduce extra notes, or if they move down, it might become more sparse. It could be any type of change to the music," said Dr Gibson.
"There will be fixed parts of the music that don't change but others that the dancer has the ability to alter, using a sort of broad, sweeping gestural control – much as a conductor can do with an orchestra. It means every performance will be different."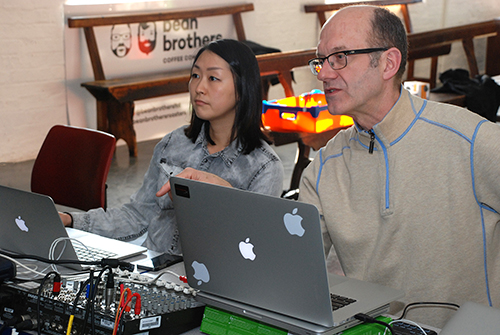 ► Huddersfield student Jung In Jung working with UBC's Professor Robert Pritchard
Before returning to British Columbia, the Laptop Orchestra – which included brass and string players plus a vocalist and dancers alongside computer musicians and engineers – gave a final performance at Bates Mill, a venue that is also used by the world-famous Huddersfield Contemporary Music Festival.
Motion tracking was a feature of a concert that included works from the repertoire of the Laptop Orchestra and also showcased the result of collaborations between the UBC visitors and University of Huddersfield students – an interactive dance piece composed by Jung In Jung, and performances created by Zeger de Vos and Tom Johnson, who have both worked on the development of the MAX software.
Motion tracking is in a sufficiently advanced state of development to be used in performances, but Dr Gibson and his UBC colleagues will continue to work on the software.
"We will make it more reliable and more accurate, so that it brings even more life and expression to the music," said Dr Gibson.