World-renowned saxophonist takes one more bow in Huddersfield
Fri, 15 Jul 2016 11:11:00 BST
Evan Parker received an Honorary Doctorate of the University for services to contemporary music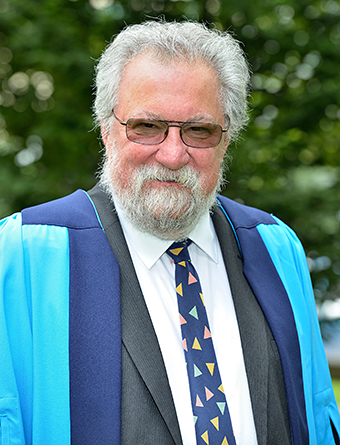 ONE of the world's most innovative and influential saxophone players has been honoured by the University of Huddersfield. He responded by praising its role in creating a globally renowned music festival.
Evan Parker is a pioneer of free jazz – music that is completely spontaneous and improvised – and has been awarded an Honorary Doctorate by the University. It was conferred by the Vice-Chancellor, Professor Bob Cryan, during one of 31 graduation ceremonies taking place over ten days.
An oration describing Mr Parker's career and achievements over the past 50 years was given by Professor Philip Thomas, himself a leading pianist. He listed some of Evan Parker's famous collaborators and recalled his performances at Huddersfield Contemporary Music Festival.
Mr Parker was "committed to making music forged in real time", said Professor Thomas, and his "extraordinary, multi-layered saxophone playing" had made him one of the most highly regarded musicians in the world.
In response, Mr Parker spoke of the University's close links with Huddersfield Contemporary Music Festival, "known around the world as one of the most important places to present music".
He praised the vision of the Festival's creator, Professor Richard Steinitz and his successor as director, Graham McKenzie.