University seals China partnerships in construction technology
Tue, 26 Jul 2016 14:17:00 BST
Memorandum of Understanding signed with Beijing's Tsinghua University‌ and with the Yunnan Arts University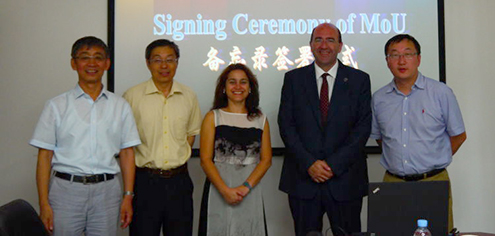 ► Pictured at the Tsinghua University are (l-r) Professor Zhiliang Ma and Dean Professor Yongjiu Shi, with Huddersfield professors Patricia Tzortzopoulos, Dean Mike Kagioglou and Song Wu
NEW UK-China research collaborations in advanced construction technology will flow from an official partnership between the University of Huddersfield and the School of Civil Engineering at Tsinghua University, in Beijing.
The role of information technology in construction and healthcare infrastructure management will be a principal focus of the collaboration, which will see the development of a global research forum concentrating on these topics.
The University of Huddersfield is rapidly establishing itself as a major centre for the study and research of architecture and the built environment, and it has academics who are global experts in cutting-edge techniques and technologies such as Building Information Modelling and Lean Construction.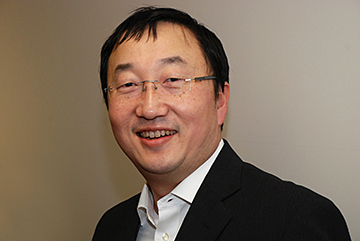 Tsinghua University is ranked as one of the leading institutions in China and the world and it has a particularly high reputation for technology, engineering and construction.
‌Now a Memorandum of Understanding (MoU) – initially scheduled to run for five years – has been signed between the University of Huddersfield's School of Art, Design and Architecture (ADA) and Tsinghua's School of Civil Engineering.
Professor Mike Kagioglou – Huddersfield's Dean of School – travelled to Tsinghua to sign the MoU. He did so alongside Professor Yongjiu Shi, who is Dean of the School of Civil Engineering.
‌A key figure in the research link is Dr Song Wu (pictured left), who is the University of Huddersfield's Professor of Surveying and IT. He was present at the MoU signing ceremony. In 2010, was awarded a UK-China Fellowship for Excellence and worked closely with Tsinghua University's Professor Zhiliang Ma, who paid a visit to Huddersfield at the start of 2016, attending an international workshop.
The full extent of the collaboration will be settled when an official kick-off meeting is held, probably in Huddersfield. But the MoU lays down the main areas of co-operation:
Development of a global research forum for IT in construction and healthcare infrastructure management.
Joint research proposals to relevant funding bodies in both countries and internationally.
Academic staff co-operation on collaborative research, exchange, publication and conferences in areas of common interest.
Identification of special short-term projects of mutual benefit to both institutions.
Any other collaborative efforts that both parties may mutually agree.
Yunnan Arts University
‌◄ Pictured is Yunnan Arts University's Dean, Professor Jinsong Chen, with Huddersfield's Mike Kagioglou
In addition to the new link with Tsinghua University, Huddersfield's School of Art, Design and Architecture has renewed a well-established MoU with Yunnan Arts University. It is a link that has provided architecture students at Huddersfield with some highly stimulating opportunities on research visits to Yunnan province.
Located in south west China and with a population of 45 million, belonging to 26 ethnic groups, Yunnan has offered the Huddersfield students a fascinating variety of landscapes, buildings and cultures, including ancient terraced paddy fields that have been declared a World Heritage Site. On their return to the UK they have been able to work on architectural projects designed to improve life in Yunnan.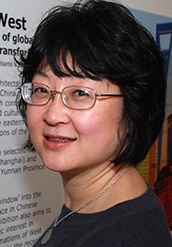 The link with Yunnan Arts University has been fostered by Dr Yun Gao (pictured right), who is a Senior Lecturer in Architecture at Huddersfield. She is a native of Yunnan province and a Visiting Professor at its Arts University.
The renewed MoU states that the aim is to explore collaborative research projects; arrange exchanges of students and research staff; organise joint academic activities such as seminars and conferences; and exchange academic materials.
On his trip to China, Professor Kagioglou also visited Yunnan to sign the new Memorandum.
He said: "I am delighted and proud that our School has MoUs with these two fine Chinese universities. From Huddersfield's perspective, our staff and students in architecture, built environment and art and design will be presented with some additional superb opportunities for research collaborations.
"Also, the new partnerships add to the growing international profile of our School of Art, Design and Architecture as a global player. Our strong delegation in China, which included Professor Patricia Tzortzopoulos – Head of Department of Architecture and 3D Design – and Professor Wu, also attended the Global Leadership Forum for Construction Engineering and Management, of which I am an Executive Committee member, hosted by Tsinghua University."