Social justice champion receives an honorary award
Thu, 14 Jul 2016 11:42:00 BST
Michael Mansfield QC received an Honorary Doctorate of the University for services to law and social justice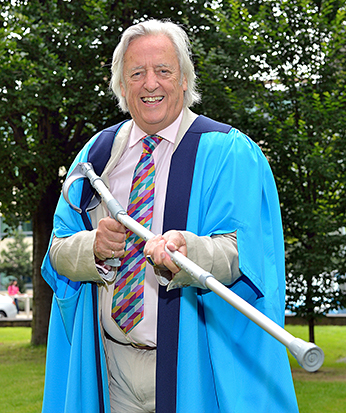 ► Battling Barrister Michael Mansfield QC
ONE of the UK's leading barristers told new law graduates of the University of Huddersfield to "fight for the truth, because if you don't, nobody will".
Michael Mansfield QC is famous for his role in high profile court cases, inquests and enquiries, helping to overturn miscarriages of justice. He has now been awarded an Honorary Doctorate by the University of Huddersfield, where on a previous visit he delivered its annual Social Justice Lecture.
Speaking at the ceremony which conferred his Doctorate, Mr Mansfield that on his earlier visit to the University he was impressed by its sense of commitment and enthusiasm to implement social justice.
"I left feeling good. I felt that the next generation is going to make a difference," he told that audience at the University's St Paul's Hall. He praised the University award-winning Legal Advice Centre, based in town centre shop premises, where law students dispense free advice to the public.
Issues such as cuts in legal aid expenditure meant that the present day was a challenging time – "but it is also the most exciting," said Mr Mansfield. He was not a Brexiteer, he added, but the referendum had given people a voice.
‌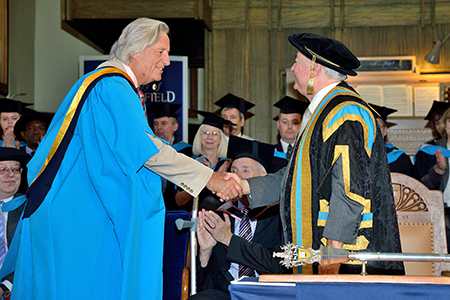 Mr Mansfield said that the environment was important and fracking was an issue that needed to be confronted and properly debated, with lawyers becoming involved. He described a new initiative that helped communities raise money for legal representation.
Mr Mansfield represented families of victims of the Hillsborough disaster and described this role as the pinnacle of a lifetime's work.
"People did not accept what had happened. For a quarter of a century they held out for the truth. I would say to you, hold to the truth, however difficult it may be, and fight for the truth, because if you don't do it, nobody else will".
Mr Mansfield's received his Honorary Doctorate at one of 31 ceremonies taking place at the University of Huddersfield during 10 days of graduation ceremonies. The award was conferred by the Vice-Chancellor of the University, Professor Bob Cryan, and an oration was given by the acting head of the Law School, Dr Sean Curley.
Mr Mansfield was at the pinnacle of his profession, said Dr Curley, who outlined a career that included cases such as the Birmingham Six, the Guildford Four, the Marchioness disaster and the Hillsborough inquest.