Skin Integrity and Infection Prevention Conference hailed success
Tue, 05 Jul 2016 13:15:00 BST
The Institute of Skin Integrity and Infection Prevention inaugural conference was organised in association with the Journal of Wound Care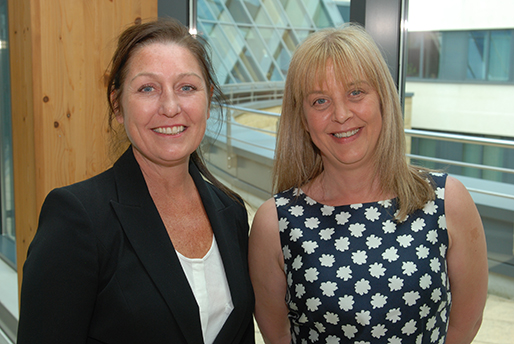 ► Overseas guest Professor Karen-Leigh Edward (left) with conference organiser Huddersfield's Professor Karen Ousey
RESEARCH by engineers and scientists working in tandem with healthcare experts will lead to major improvements in wound care and the quality of life for patients. That was a message to emerge from an inaugural conference at the University of Huddersfield which drew a multi-disciplinary, multi-national attendance.
‌

‌◄ Huddersfield contributors (from the top) Dr Leigh Fleming, Dr Jess Power and Leanne Atkin
It was the 1st International Skin Integrity and Infection Prevention Conference, taking place over two days and attracting 120 delegates and speakers, including, engineers, biologists, micro-biologists, representatives of industry alongside nurses, podiatrists and doctors. Experts from Austria, Germany, Australia and Israel joined UK delegates.
"It was a brilliant event and one of the major themes was the importance of an inter-professional approach to skin integrity, across engineering, art and design, applied sciences and health," said conference organiser Professor Karen Ousey.
She is the University's Professor of Skin Integrity and she heads its Institute of Skin Integrity and Infection Prevention (ISIaIP). The success of the first conference – organised in association with the Journal of Wound Care – means it will be repeated in 2017.
Among the objectives of the first conference were a discussion of new infection prevention and management strategies; the issue of antibiotic resistance; new findings about the use of antiseptics; and an exploration of computer modelling and simulations for understanding chronic wounds and wound healing.
That topic was covered by Amit Gefen, who is Professor of Biological Engineering at the University of Tel Aviv, and a newly-appointed Visiting Professor at Huddersfield. His talk was followed by a symposium on wound measurement and future directions it will take.
Dr Leigh Fleming, who is Subject Area Leader for mechanical and automotive engineering at the University of Huddersfield's School of Computing and Engineering, discussed the use of 3D printing and scanning. She was joined by textiles expert Dr Jess Power, who is Director of Teaching and Learning at the University's School of Art, Design and Architecture.
Professor Ousey says that the future will include bespoke dressings produced for individual patients after their wound had been scanned and measured. The 1st International Conference illustrated the inter-disciplinary nature of research into this subject. The University of Huddersfield's ISIaIP has members from most of its academic schools.
After the conference was opened by Professor Andrew Ball – the University of Huddersfield's Pro Vice-Chancellor for Research and Enterprise – there was a keynote address from the University's Professor David Leaper, discussing new strategies in dealing with infection. There was also a keynote from Huddersfield's Professor Ojan Assadian. This was titled "new preventative and therapeutic strategies in the light of antibiotic resistance'.
‌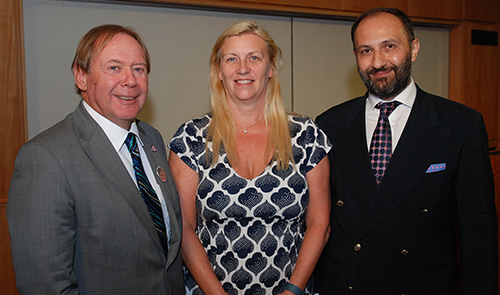 ► Pictured with conference organiser Jacqui Fletcher are keynote speakers Professor David Leaper (left) and Professor Ojan Assadian
Speakers from within the ISIaIP also included lecturer and vascular nurse specialist Leanne Atkin, on clinical practice in wound measurement.
Overseas guests included Professor Karen-Leigh Edward, of the Australian Catholic University, and Professor Axel Kramer, of Ernst Moritz Arndt University in Germany.
Among UK-based experts were Dr Paul Chadwick, a consultant podiatrist at Salford Royal Hospital – on current evidence in wound measurement – and the University of Southampton's Professor Dan Bader, who discussed bio-engineering.
It is planned to publish papers based on conference presentations in an edition of the Journal of Wound Care.
Professor Ousey praised Vikki Hart, who is research administrator for the University's School of Human and Health Sciences, for her role in helping organise the conference.