President of the IET conferred with honorary award
Mon, 18 Jul 2016 11:34:00 BST
Naomi Climer received an Honorary Doctorate of the University for services to engineering and gender equality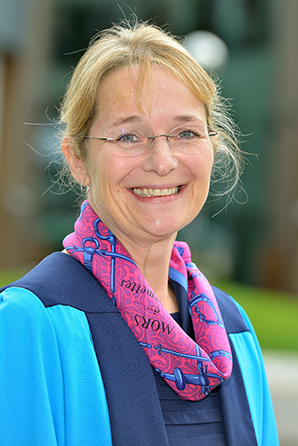 WHEN one of the UK's most inspirational engineers received a special award from the University of Huddersfield, she told an audience of new graduates not to worry if they lack fully-formed career plans because opportunities can arise when they are least expected.
Naomi Climer is the first female president of the Institution of Engineering and Technology (IET) one of the largest bodies of its type in the world. She has now received an Honorary Doctorate from Huddersfield, conferred at one of the current round of awards ceremonies, taking place over ten days.
When he bestowed the doctorate, the University's Vice-Chancellor, Professor Bob Cryan – an engineer himself – described her as "a true inspiration".
An oration was delivered by Dr Violeta Holmes, who is Subject Area Leader for Electronic and Electrical Engineering in the University's School of Computing and Engineering.
"Naomi Climer is one of the most senior British women engineers working in the communication industry. She has spent her career immersed in the rapidly changing world of media and entertainment technology from the pre-internet days of analogue TV and radio through to the multi-channel, multi-platform, mobile experience of today," said Dr Holmes.
‌She outlined Naomi Climer's career, which has included key roles with organisations and firms such as the BBC and Sony. She is also been an active campaigner for gender diversity within the UK engineering profession in the UK.
‌"Throughout her career she has demonstrated how creative, exciting and diverse an engineering career can be, and she aims to inspire many more people to become engineers. This is an extraordinary time to be an engineer – engineering and technology is continuously developing new ideas that will benefit society, individuals and the world," said Dr Holmes.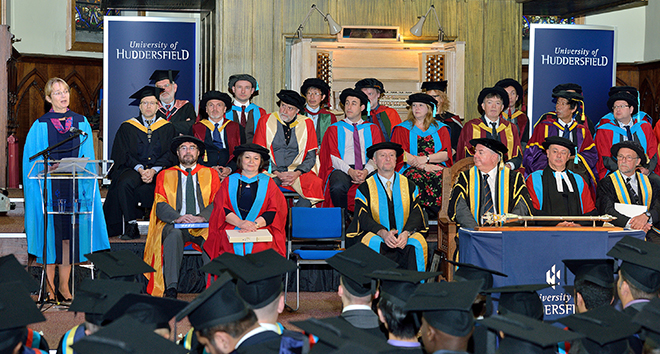 In her response, Naomi Climer said she was "so proud to be associated with this innovative dynamic university". She congratulated graduates from the School of Computing and Engineering.
She went on to say: "If, like me, you don't yet have a pre-formed plan, don't worry. I can only tell you that from my experience I have never had much of a plan and I have been surprisingly successful, probably because of hard work, being a positive member of a team and always being ready to spot an opportunity and grab it.
"Opportunities may not come in the way that you expect, so keep an open mind," she added.