Postgraduate Perspectives on the Past on-line journal launch
Thu, 07 Jul 2016 13:43:00 BST
The newly-launched Huddersfield journal probes history from different angles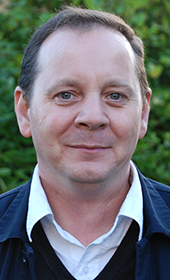 HOW did a Victorian gentleman defend himself against ruffians? Who was vulnerable to accusations of witchcraft in 17th century Yorkshire? How were the mentally-ill treated in colonial India? What was it like to be a UK immigrant in the 1970s? These are among the questions and answers in the latest edition of a University of Huddersfield journal that probes history from different angles.

Named Postgraduate Perspectives on the Past, it offers opportunities for new researchers to make their published debut. When the journal was first issued in 2015, it was titled Postgraduate Perspectives on History, but has been renamed to reflect the fact that researchers in several other disciplines – such as heritage studies and archaeology – are also investigating and interpreting the past. The background to this is discussed in a preface from the editor-in-chief of the journal, Professor Paul Ward (Pictured left), who is Head of History, English, Languages and Media at the University of Huddersfield.
Now available online, the new edition of the journal was launched at the University of Huddersfield during its two-day conference entitled Perspectives on the Past: Heritage, Identity and Practice. Historian Dr Maggie Bullett (pictured top right) – who co-edited the journal alongside Charlotte Mallinson (pictured bottom right) – told delegates how the journal's ethos was to provide a supportive environment for first-time authors.
"I think this has resulted in a very fine collection of papers," she said. "They are from students at Huddersfield and other institutions and reflect the work of several disciplines and approaches. They cover a chronological range of 400 years from the seventeenth century up to the later-twentieth century."
"Putting the volume together was a great team effort involving staff and students from several universities," added Dr Bullett.
Papers at the conference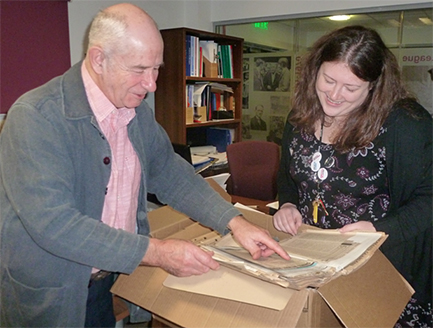 ◄ Pictured Duncan Scott with Heritage Quay Archivist, Lindsay Ince
In A Sociological Tableau of Inter-Ethnic Relations In Huddersfield: The Duncan Scott Archive At Heritage Quay, Joe Hopkinson – studying for an MA by Research at the University of Huddersfield – analyses the work of Duncan Scott, who researched the lives of immigrant and ethnic minority communities in the Huddersfield of the 1970s. The collection – now archived at the University's Heritage Quay – reveals a racism that is not apparent from traditional sources.
In "Don't Laugh At Me. Just Try It For Yourself And See What Happens" Trying Psychoanalysis: Treating Distressed Imperial Minds In 1920s And 1930s Colonial India, Mike Young – who is completing his PhD at the University of Huddersfield – looks at attempts to use Freudian psychoanalysis on British people in colonial India. He describes the European hospital at Ranchi and how mentally-ill white British people were kept hidden from the view of Indians in order to preserve the appearance of superiority.
In Belief, Influence And Action: Witchcraft In Seventeenth-Century Yorkshire, University of Huddersfield MA student Amelia Sceats examines witchcraft in 17th century Yorkshire and argues that attitudes varied with social status.
In Approaches To The Analysis And Interpretation Of Elite Terraced Houses In The Long Eighteenth Century, Joanne Harrison – an architect now studying for a PhD at the University of York – explores different methods of understanding how 18th century terraced houses were used by their occupants. Adopting an anthropological approach, she brings plans of buildings to life.
In Understanding Victorian Cultures Of Violence: The Utility Of Experimental Archaeology And Practical Hermeneutics, Liam Hannan – studying for a PhD at the University of Manchester – describes his innovative approach to cultures of violence. He has examined martial arts manuals of the late-19th century and actually tried out their techniques. This "practical archaeology" has helped him to understand the attitude of middle-class Victorian men towards violence and their fear of being attacked.