Maggie recounts her big break on TV and her trip to Huddersfield
Mon, 18 Jul 2016 12:53:00 BST
Maggie Philbin received an Honorary Doctorate of the University for services to science broadcasting and technology education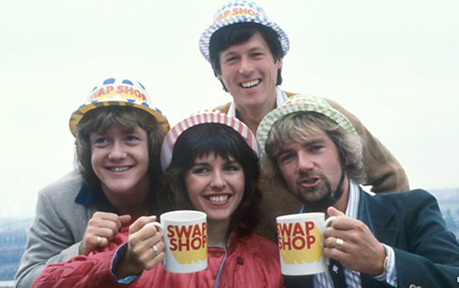 ► The young Maggie Philbin is pictured with the original Swap Shop line-up (l-r) Keith Chegwin, John Craven and Noel Edmonds
WHEN TV presenter and technology entrepreneur Maggie Philbin came to Huddersfield to receive an honorary doctorate from its University, it meant a return journey to one of the most exciting moments in her life.
She was joined at the ceremony by her sister Nickie, who was a Huddersfield student towards the end of the 1970s, taking a BA degree in humanities and drama that led to a career in showbusiness and music journalism, plus management and celebrity photography. Maggie herself was a student in Manchester at the time and after answering an unusual advertisement in The Stage, had just landed a presenting job with popular Saturday morning TV show Swap Shop.
After receiving her Honorary Doctorate, she told the audience at the University's St Paul's Hall how she had travelled to Huddersfield to tell Nickie about her big break.
"It was so exciting to be on that train knowing I was coming to give her some amazing news. Swap Shop really did turn out to be the chance of a lifetime," said Maggie, who later went on to specialise in presenting science and technology programmes – notably Tomorrow's World.
This in turn would lead her into becoming a major figure in many charities and a promoter of technology among young people. Her career was outlined in an oration by Dr Rupert Ward, who is Head of Informatics at the University.
He told how Maggie Philbin became co-founder and CEO of the award-winning TeenTech, which inspires young people to engage with science and technology.
‌"TeenTech's annual awards provide an opportunity for the groups of young people to identify innovative solutions which can then be potentially tested and developed commercially," said Dr Ward. He went to tell how Maggie was asked to lead the UK Digital Skills Task Force, which reported to government on the UK's digital skills requirements.
‌"Looking back over a media career of more than 30 years in radio, television, print and online, Maggie has shown an amazing adaptability to a wide variety of roles and a continued passion and commitment that very few can match," said Dr Ward, who concluded that "we would be in a far worse position, particularly in terms of the number of girls engaging with science and technology, without the truly remarkable role model we have here with us today."
Maggie Philbin's Honorary Doctorate was conferred by University of Huddersfield Vice-Chancellor, Professor Bob Cryan, during one of the 31 graduation ceremonies taking place over the ten-day period.
When she responded, Maggie spoke about her broadcasting career – including some setbacks when she tried her hand at consumer journalism, leading her to concentrate on science and technology – and she used her experience to bestow advice on new graduates.
Recalling the magazine advertisement that led to her Swap Shop break, she told how she nearly failed to respond.
"So when you get an opportunity, always push to one side that idea that this isn't for me.
"You really do have the world in front of you and what's really exciting is you have no idea what you will go on to do, so seize every opportunity."