July 2016 Chancellor's Prize-winners
Tue, 19 Jul 2016 13:36:00 BST
The award recognises some of the highest achieving students at the ceremonies
‌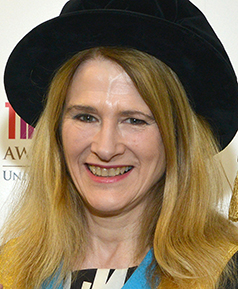 ► Professor Christine Jarvis, Pro Vice-Chancellor (Teaching and Learning)
THE University of Huddersfield's top students have been rewarded for their high scores during degree studies.
Chancellor's Prizes were presented to 20 students at a special event that took place during the University's July 2016 Awards Ceremonies. Since 2011, the prizes have been given annually to new graduates across the University who achieved the best marks of their year.
The certificates were handed over by the University's Pro Vice-Chancellor for Teaching and Learning, Professor Christine Jarvis, who said: "The 2016 Chancellor's Prize-winners are once again a remarkable group. All of the winners should be immensely proud."
Receiving a Chancellor's Prize means that addition to their first class degrees, the winners had an added mark of distinction, continued Professor Jarvis.
"But in addition to recognising the success of our very best students, Chancellor's Prizes are, in many cases, a testament to the excellence of the support the winners have received from their families and friends. It is not always easy being the wife, husband, child, parent, friend of a single-minded high flyer, and your understanding, your practical support and your willingness to let them shine is critical."
Professor Jarvis added that in many cases the prize-winners might have been the first in their families to attend university and that was a great vindication of the University of Huddersfield's determination to widen access to Higher Education.
The University has an excellent track record for teaching the most able students, said Professor Jarvis.
"These students do not always come to us from privileged or elite backgrounds. We believe students should be challenged, face real-world problems in their studies, develop as independent critical thinkers and be ready to become leaders in society.

Pictured above (l-r) are prize-winners: Lauren Auty (Animation and Motion Graphics), Faye Chambers (English Language with Creative Writing), Adam Clayton (Chemistry), Aidan Cooke (Graphic Design), Rebecca Fisk (Graphic Design), Jayne Graham (Podiatry)

Pictured above (l-r) are prize-winners: Annabel Grant (Graphic Design), Jamie Green (Computing and Engineering), Jack Hartley (Computing), Ruth Henderson (Human and Health), Charlie Hill (Childhood Studies), Abbie-Lee Hollister (Business Management)

Pictured above (l-r) are prize-winners: Jaimin Joshi (Electronic Engineering and Computer Systems), Rebecca Kelly (Education), Rebecca Robinson (Early Primary Education Early Years and Key Stage 1), Thomas Robshaw (Chemistry with Industrial Experience), Daniel Stansfield (Graphic Design), Sophie Strain (Graphic Design), Kenneth Wilkinson (Music Performance with Composition)