Huddersfield Contemporary Music Festival double funding success
Thu, 28 Jul 2016 10:47:00 BST
Over the course of two days, the HCMF secures two funding awards from Arts Council England totalling £274,000
‌A MAJOR music festival that puts Huddersfield on the world map and which has close links to the town's university is celebrating a £274,000 funding boost.
Huddersfield Contemporary Music Festival (HCMF) – which reaches its 40th anniversary in 2017 – is established as one of the globe's leading showcases for new and experimental music, attracting leading international composers and performers. It was founded in 1978 by University of Huddersfield composition lecturer Professor Richard Steinitz (pictured right), and he was its artistic director for 23 years.
Now, Arts Council England has announced two new funding awards for the Festival, which takes place over ten days every November.
First came an announcement that HCMF will receive £160,000 from the Council's England International Showcasing Fund. This cash will assist the production of British contemporary, new and experimental music across the closing weekends of both the 2016 and 2017 Festivals.
Next came news that the Festival had also been awarded £114,000 through Arts Council England's Catalyst Evolve funding stream, which will support further development of its philanthropic fundraising capacity and activity over the next three years.
Delighted...
The HCMF's Artistic Director, Graham McKenzie, welcomed the news:
"To say that we're delighted to receive such fantastic news two days in a row would be something of an understatement! We are immensely proud of this achievement and extremely grateful to have received such significant support from Arts Council England.
‌"The awards are a real vote of confidence in the on-going development of Huddersfield Contemporary Music Festival as a forward-looking arts organisation as well as recognising its importance in the national and international landscape of contemporary and experimental music. Given that both funding streams will continue through into 2017, when we will be celebrating the 40th year of the Festival. The news is a great boost for the Festival and for British new music."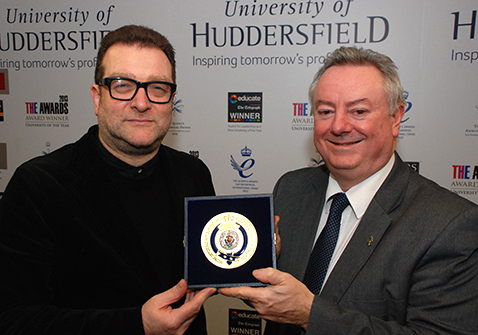 The Vice-Chancellor of the University of Huddersfield, Professor Bob Cryan, is also delighted by the funding boost.
"New music is one of our most important areas of teaching and research – so much so that at the start of 2016 it earned us a Queen's Anniversary Prize, one of the most prestigious awards in the Higher Education Sector," he said.
"We have some brilliant composers and performers on our teaching staff and they attract many outstanding students from around the world, so contemporary music is a subject area that raises our international profile. As a University we are proud of our long association with the Huddersfield Contemporary Music Festival and share its excitement at the new of the latest Arts Council England funding awards."


► The University received the Queen's Anniversary Prize for "world-leading work to promote, produce and present contemporary music to an international audience". Pictured with the Prize are HCMF's Artistic Director, Graham McKenzie (left), and the University's Vice-Chancellor, Professor Bob Cryan.