Honorary award for the Royal Society's Executive Director
Wed, 20 Jul 2016 09:55:00 BST
Dr Julie Maxton received an Honorary Doctorate of the University for services to science, law and education
A WOMAN at the head of the globe's most eminent scientific body has urged new graduates of the University of Huddersfield to "take on the world".
Scottish-born Dr Julie Maxton had a highly successful career teaching and practising law in New Zealand, until she returned to the UK in 2005 to become the first woman to hold the office of Registrar at Oxford University. Then she became the first female Executive Director of the Royal Society, which was founded in the 1660s to promote and support excellence in science.
Now, Dr Maxton has accepted an Honorary Doctorate from the University of Huddersfield. It was bestowed at a ceremony conferring degrees on new graduates of the University's School of Applied Sciences – one of 31 awards ceremonies staking place over ten days.
An oration for Dr Maxton was delivered by Professor Joe Sweeney, the University of Huddersfield's Professor of Catalysis and Chemical Biology, who has held prestigious Research Fellowships from the Royal Society. He outlined Dr Maxton's career and added some personal observations, describing the former Scottish lacrosse and hockey international as "a formidable and dynamic character".
‌"I can equally tell you that she is also a charming, approachable and engaging colleague," added Professor Sweeney.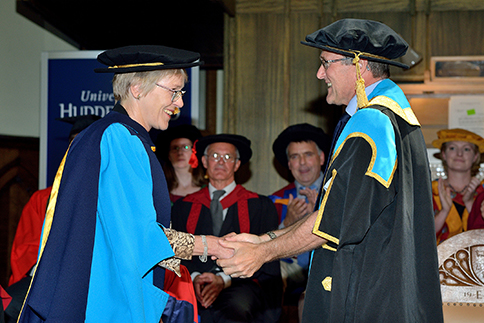 "In the challenging times in which institutes of learning find themselves, when the very existence of certain areas of science is under threat, the pursuit of excellence relies more than ever on the strength of the leaders in our community," he continued.
"With colleagues such as Julie alongside us, we can rely on the finest, strongest support in the pursuit of knowledge," said Professor Sweeney.
After her honorary doctorate was conferred by Professor Dave Taylor, the University of Huddersfield's Pro Vice-Chancellor, International, Dr Maxton said she was honoured and proud to receive the award and pledged that "the Royal Society will continue to do everything we can to support everything to do with science, to do with science funding and to do with the community of scientists".
She told students at the St Paul's Hall ceremony: "You are all science graduates and science is absolutely vital to health and wealth of society and to solve problems around the world. I hope that you go out from here with your wonderful degrees from the University of Huddersfield and take on the world in every way you can."