Game Designers triumph at national Game Republic competition
Fri, 08 Jul 2016 09:24:00 BST
Games Design and Programming team take six awards at this year's Game Republic Student Showcase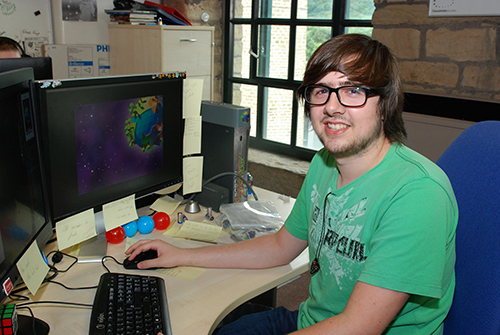 ► Team Leader Marcus Nichols
The University's Games Design and Programming team have triumphed at this year's Game Republic Student Showcase, which sees Huddersfield go head-to-head against Bradford, Leeds Beckett, York and Sheffield Hallam to win prestigious awards and that all important industry recognition.
The showcase allows six entries of teams of up to six members from each university. This year, Huddersfield dominated the awards, taking home six prizes including three of the four first place prizes available for Game Technology, Game Art and Animation and Best Team.
Marcus Nichols, Daniel Schofield, Parampal Singh and Nick Chilvers who formed the team French Toast Mafia won across all four categories for their entry Pocket Galaxy. The game is what is known as an idle clicker or tapper game, which basically involves tap interaction to complete objectives – in this case mining the cores of planets. The team are hoping to put the game on the market following its success and plan to make it available on iOS and Android. With a team who strive for perfection, the game, which is targeted at all ages, took longer than expected to finalise. Marcus commented: "We started the project eight months ago and we thought we would be done by Christmas. We were so, so wrong."
An individual entrant, Shivam Devani went on to receive first for Game Art and Animation. Shivam chose to showcase his entire portfolio of work, which included video projects of a stylised apocalyptic bus scene and a realistic male torso anatomy study. He also displayed his industrial asset pack, which was entered in the European Search for a Star competition where Shivam was awarded runner-up in the Environment Art category.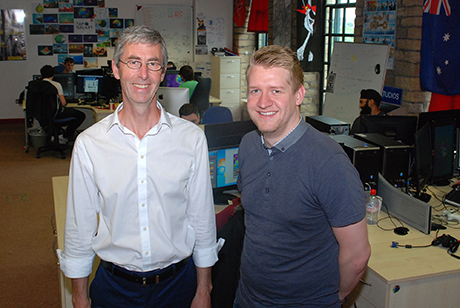 All to play for
◄ Tutors Michael O'Grady (left) and Matthew Novak
The University has a particularly strong Games Design and Programming courses. Huddersfield students have taken part in the event for the past nine years, however this year has seen the most wins. Computer Games Design course leader, Daryl Marples, believes enthusiasm from the word go warrants such a success this year
"We went into this competition with the aim of winning it," he said. "From the beginning of the year students have known this is all to play for. How do you prove you are good at what you do? You go out and win competitions."
Michael O'Grady, acting subject area leader for digital media, adds that the union of staff and students with tonnes of enthusiasm becomes contagious. "The successful students have qualities that will enable them to go far in the world of games design and production," he added.
"They are all broadly skilled, every single one of them. The winners have found their passion and they've their direction in life. There's so much passion and intensity in the subject, because it is so interesting."
There are very few events like this in the UK, so the department plan to return next year with extra additions to the staff team, including a new programmer and a new games artist who have exceptional industry experience.
"The thing that actually drives our students to success is that they love it, it's fun and they like the results they get out of it," said Daryl. They're in the incredibly fortunate position that they spend their time making cool things. It's not only their passion, but they are developing skills they can build a career upon."