Chancellor urges graduates to be innovators of next generation
Wed, 13 Jul 2016 16:13:00 BST
HRH The Duke of York, KG, presided at two of the ceremonies on the opening day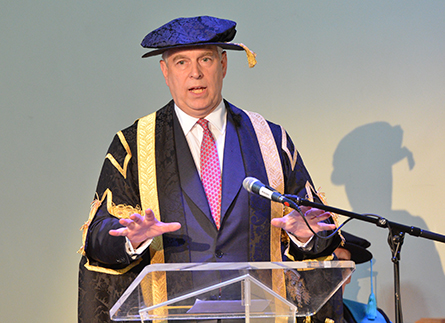 THE Chancellor of the University of Huddersfield, HRH The Duke of York, KG, told the cohort of students graduating in 2016 that they were crucial to the future of Britain.
"You are the people who are either going to correct the mistakes of the previous generation or be the innovative entrepreneurs creating opportunities and ideas for the next generation," said The Duke, who presided at two of the first ceremonies in a ten-day sequence that would see almost 3,000 students receiving their awards.
"You should leave this place with pleasure and an enormous amount of pride, but recognise that there is still a huge amount left in you to contribute, collaborate and participate in order to make this country continue to be a prosperous and wonderful place," he said.
Earlier in his speech, His Royal Highness praised the teamwork and the teaching that had enabled students to make a success of their courses. And although the graduates were now departing to start their careers, the University of Huddersfield could continue to offer support, especially to former students launching their own businesses.
"So don't be shy about keeping in touch," he said.
The University is home to The Duke of York Young Entrepreneur Centre, which provides support, facilities and mentoring to students and graduates.
On the opening day, His Royal Highness attended graduation ceremonies for the School of Computing and Engineering and the School of Art, Design and Architecture, two of 31 ceremonies taking place at the University's St Paul's Hall between 11th and 19th July.