Chancellor meets Malaysian dignitaries and alumni
Fri, 08 Jul 2016 15:46:00 BST
‌HRH The Duke of York has backed a new scholarship bearing his name
‌THE Chancellor of the University of Huddersfield, HRH The Duke of York, KG, has backed a new scholarship bearing his name that will pay up to £53,000 in tuition fees to a talented student from South East Asia.
The announcement was made at a special event in Kuala Lumpur at which The Duke met with UK and Malaysian dignitaries and some 40 alumni of the University of Huddersfield.
The scholarship is a major innovation because it is the first award to be made by the University in conjunction with its pathway provider partner Study Group, which delivers year-long foundation courses for overseas students in partnership with the University in Huddersfield. These programmes provide vital preparation for the subsequent degree courses by honing the students' academic and language skills.
The new Duke of York Scholarship will pay all tuition fees for the foundation year and for the following degree course, which can be taken in any subject offered by the University. This combined award makes it especially valuable, and it could cover fees amounting to £53,000 over the four years of study. ‌The scholarship is being offered to potential students in Malaysia, Myanmar, Thailand, Singapore, Indonesia, Hong Kong and China.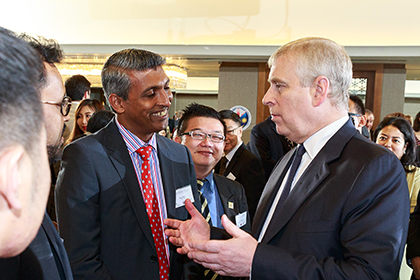 The University of Huddersfield's agents in this region are disseminating news of the Duke of York Scholarship and suitable candidates will be asked to provide a personal statement outlining why they should be awarded the scholarship and how they plan to contribute to student life at the University. A panel of judges will then select the best submission and the student awarded the scholarship will start his or her studies in the autumn.
‌The event at which the Duke of York announced the scholarship was an alumni gathering at Kuala Lumpur's Mandarin Oriental Hotel. Some 40 former University of Huddersfield students came from across Malaysia and there were over 100 other guests, including representatives of the British-Malaysia Chamber of Commerce, UK Trade and Investment and the Malaysian Ministry of Education.
Speakers included Professor David Taylor, who is the University of Huddersfield's Pro Vice-Chancellor, International, and Manoj Shetty (pictured left with The Duke), who is Study Group's Executive Director of Sales. Following His Royal Highness' address, The Duke spent time talking to various guests about the merits of studying in the UK.