Californian textile artist and designer returns for award
Fri, 15 Jul 2016 11:44:00 BST
Kaffe Fassett received an Honorary Doctorate of the University for services to textile design and craft
ONE of the world's most inspirational designers has made a plea for more arts and crafts teaching in UK schools. Kaffe Fassett – internationally known for his knitwear designs and his passion for colour – was speaking after receiving an Honorary Doctorate of the University of Huddersfield, which has a 175-year tradition of textile education and is sited in a town with a heritage of high-quality fabric production.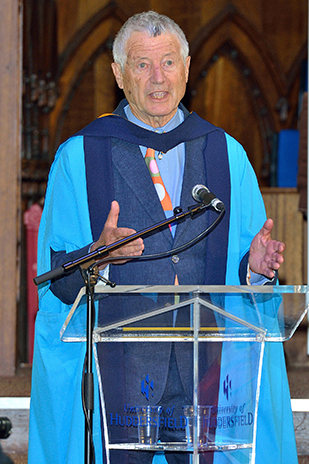 Kaffe Fassett delivered a special lecture at the University in 2015, when his visit inspired projects by textile design students. He also has links with Huddersfield Textile Society and works with local high-end yarn producer, Holmfirth-based Rowan. He received his Honorary Doctorate during one of the 31 graduation ceremonies taking place over ten days at the University.
The award was bestowed by University of Huddersfield Vice-Chancellor, Professor Bob Cryan, and an oration was delivered by Senior Lecturer Nicola Redmore, who outlined the designer's amazing career and his global reputation, bolstered by touring exhibitions, 30 books and a Channel 4 TV series.
‌She told how Kaffe Fassett was born in the USA, but relocated to the UK in the 1960s. Recent distinctions include the award of the Turner Medal, by the Colour Group of Great Britain.
Speaking after receiving his Honorary Doctorate at the University's St Paul's Hall, Kaffe Fassett told how as a child he attended a small school in California where he was inspired by a local artist brought in to teach.
He said he was sad that arts and crafts teaching was being reduced in the curriculum of UK schools.
"We need time to dream," he said, "and there is a lot of wonderful dreaming in this country. Its artists and musicians have rocked the world! I hope that arts can make a comeback at school and make us come alive."