Pakistan researcher is University's Research Student of the Year
Fri, 22 Jan 2016 14:43:00 GMT
Pharmaceutical Scientist Dr Muhammad Ghori has been working on oral-controlled drug delivery systems and various aspects of drug release behaviour
RESEARCH that could aid the pharmaceutical industry in developing more effective control release matrix tablets has earned the University of Huddersfield's Dr Muhammad Usman Ghori a top research award.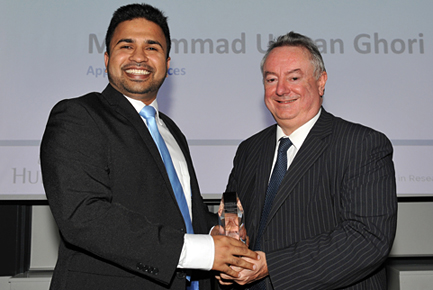 He has been declared the 2015 Vice-Chancellor's Research Student of the Year. The distinction acknowledges his completed doctoral thesis – entitled Release kinetics, compaction and electrostatic properties of hydrophilic matrices – plus a roster of recent and forthcoming articles, co-written with fellow University of Huddersfield researchers, covering issues that include oral-controlled drug delivery systems and various aspects of drug release behaviour.
► Dr Ghori is pictured with the University's Vice-Chancellor, Professor Bob Cryan
Pakistan-born Dr Ghori has also made a big impact on university life for all pharmacy students, by playing a lead role in establishing a chapter of the globally-active American Association of Pharmaceutical Sciences (AAPS) at the University of Huddersfield. Its activities have included a conference attended by delegates from around the UK.
Before he relocated to the UK and embarked on research at the University of Huddersfield, Dr Ghori had already been awarded a Doctor of Pharmacy degree from Bahauddin Zakariya University, in Multan, Pakistan, and became a registered pharmacist with the Punjab Pharmacy Council, Pakistan.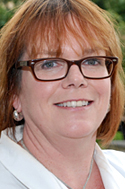 He was awarded a scholarship to carry out PhD research at the University of Huddersfield, where his supervisor was the Head of Pharmacy, Professor Barbara Conway (pictured). The research included to study the swelling, erosion, electrostatic and compaction properties of hydrophilic matrices.
Professor Conway commented that Dr Ghori has a huge thirst for knowledge and a drive to succeed. "Hydrophilic matrix tablets are a common dosage form for extending the duration of drug release, thus reducing the number of times people have to take medication.
"Muhammad's work has helped the understanding of how these work in the body and can help with the design of such systems. He published the results from his research throughout his PhD studies and was invited to give expert talks at conferences. Moreover, his enthusiasm and dedication has inspired other students to follow in his footsteps."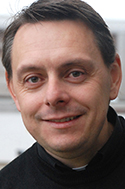 During his PhD, Dr Ghori has successfully developed a simple technique to simultaneously study the erosion and dissolution of matrix tablets and investigated the potential of a sustainable biopolymer from Okra pods as a tablet excipient for controlled release. In that aspect of research, University of Huddersfield's researcher Dr Alan Smith (pictured) was also involved.
"Within the Department of Pharmacy, we adopt a multi-disciplinary approach to solve real-world problems," said Dr Smith, "and Muhammad has epitomised this philosophy which is evident in the exceptional quality and diversity of his research outputs. This has also opened up a network of new collaborators for Muhammad with academics from the Department of Biology, Department of Chemistry and the School of Engineering, which have facilitated the development of some exciting new research projects."
Now that he has been awarded his PhD, Dr Ghori has been appointed a Research Fellow at the University of Huddersfield and is working with Professor Mike Reading and colleagues in the School of Applied Sciences and the School of Computing and Engineering, founder and research director of the company Cyversa. The work centres on the development of a groundbreaking new technique named Chemical Imaging by Dissolution Analysis – a nanoscale method for studying the distribution of components in solid mixtures.