Brazil's urban design evaluation features at inaugural conference
Mon, 15 Feb 2016 11:49:00 GMT
Huddersfield's Dr Ioanni Delsante's research with Porto Alegre's Universidade Federal do Rio Grande do Sul features at the multi-disciplinary Regional Urbanism in the Era of Globalisation conference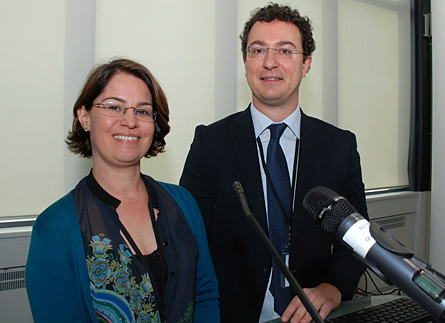 ► Dr Ioanni Delsante with the Universidade Federal do Rio Grande do Sul's Dr Luciana Miron
SINCE 2002, the southern Brazilian city of Porto Alegre has been the site of an innovative development scheme aimed at improving the quality of housing and facilities in one of its poorest districts. The successes and setbacks of the City Entrance Integrated Program (PIEC) have made it a valuable case study for experts in urban design. In the UK, the University of Huddersfield has taken a special interest in the project.
One of its academic researchers has collaborated in a new paper that examines issues such as users' perception and try to relate them with urban quality.
Dr Ioanni Delsante is Reader in Urban Design in the School of Art, Design and Architecture at the University of Huddersfield, which has signed a Memorandum of Understanding with Porto Alegre's Universidade Federal do Rio Grande do Sul (UFRGS). Master's students at Huddersfield have paid research visits to the Brazilian city – which has a population of almost 4.5 million – and Dr Delsante has worked closely with Dr Luciana Miron of UFRGS.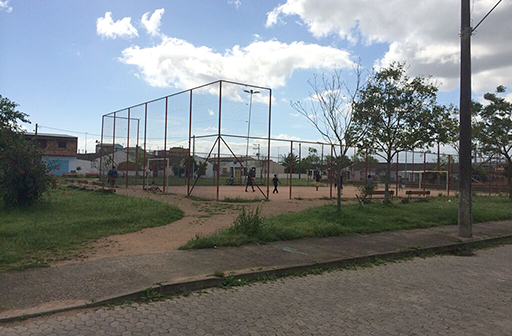 They have collaborated on a paper presented at the multi-disciplinary conference, Regional Urbanism in the Era of Globalisation, which took place at the University of Huddersfield, where it was organised by the University's Centre for Urban Design, Architecture and Sustainability, of which Dr Delsante is a member. He and Dr Miron gave the paper dealing with PIEC, which has delivered social housing, community buildings, facilities and public spaces.
There have been several "post occupancy evaluations" carried out in some of the new residential areas, gauging perceptions of the housing and urban design. There has been considerable positive feedback, but also evidence of shortcomings.
For example, an evaluation of retention rates shows that a large number of local families who were beneficiaries of the new social housing have sold up and moved away in order to live in favelas.
This means that better design and management are probably needed, according to Dr Delsante and his colleagues. But there are also many positives, he adds.
"Of course in such a country and such a social situation there are drawbacks, but PIEC has delivered a large number of houses in a way that is much better than other housing projects in Brazil, so I would say that overall it is a success story," said Dr Delsante, who also believes that the methodologies for appraising and monitoring PIEC have global relevance – including areas of Europe.